People were delighted when online access was restored in both regions on Thursday at around 19:00 GMT, a BBC correspondent in Bamenda reports.
Before the ban, authorities had warned mobile phone users they faced jail for spreading false information.
Communications and the economy were badly affected by the shutdown.
Anglophone Cameroonians make up about 20% of the country's 23 million people. The other regions of the country are predominately French-speaking.
Prominent Cameroonian entrepreneur Rebecca Enonchong welcomed the news on Twitter, using the #BringBackOurInternet hashtag, which had been employed by many to pressure the government to lift the ban.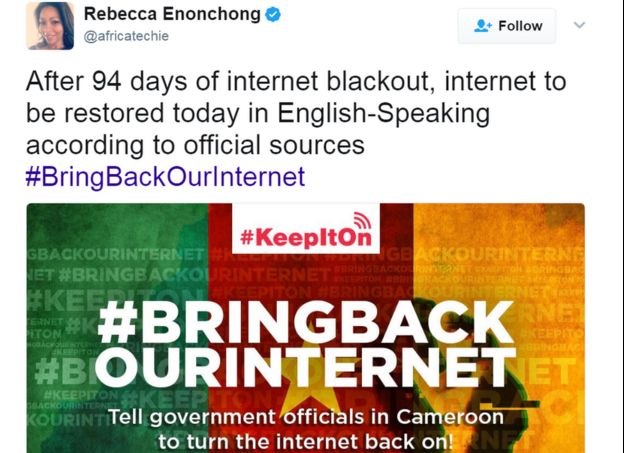 Workers in Cameroon's tech hub, known as Silicon Mountain, had to relocate to areas where the internet was still available.
Anglophone Cameroonians in the North-West and South-West regions had been protesting over marginalisation and the imposition of French in their schools and courts.
Announcing the lifting of the ban, the government said it reserved the right to "take measures to stop the internet once again becoming a tool to stoke hatred and division among Cameroonians".
BBC