World War One officially ended at 11:00 French time on 11 November, 1918. Almost a century later, in Australia, Sydney's iconic opera house was lit up with poppies - the symbol adopted by the Poppy Appeal, in aid of those serving in the British armed forces, back after its formation in 1921.
---
Members of the Sri Lankan navy observed a silence in Colombo, Sri Lanka. Here it is known as "Poppy Day". By the time the Great War, as it was known then, ended, about 17 million soldiers and civilians had died.
---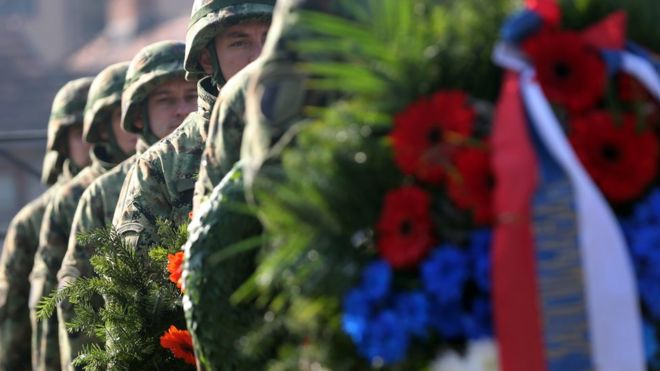 EPA
Soldiers laid a wreath of poppies in Belgrade, Serbia. Poppies were the first flower to grow on the battlefields after the war. A day has been set aside to remember those killed in wars ever since 1919.
---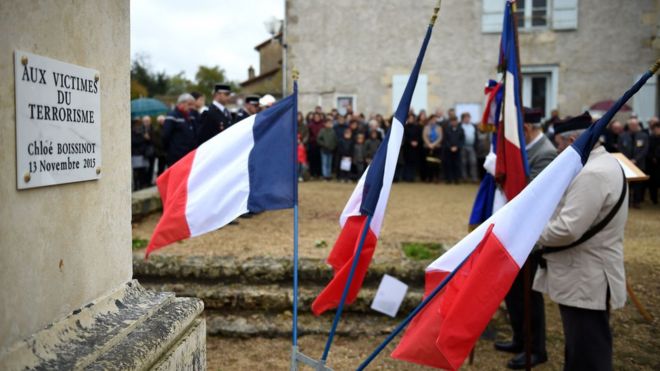 AFP
In France, one town was not only remembering the end of World War One, but the loss of one of its citizens, Chloe Boissinot, killed in the jihadist attacks on Paris two years ago. The Treaty of Versailles was signed in France in 1919, imposing harsh terms on Germany.
---
Princess Anne travelled to the Ypres Monument at the Menenpoort (Menin Gate) in Belgium. Thousands gathered here in July to mark a century since the Battle of Passchendaele began, which left 320,000 dead or wounded on the Allied side alone.
---
Canada was also due to mark Remembrance Day, but these red ribbons had already been tied to Rose of Sharon trees in honour of the 516 troops who lost their lives in the Korean War. Some 61,000 Canadians lost their lives in World War One.
---
BBC