It is the country's second aircraft carrier, after the Liaoning, and the first to be made domestically.
State media said the unnamed ship was "transferred from dry dock into the water" in the north-eastern port of Dalian. Previous reports said it would be operational by 2020.
It comes amid heated rhetoric between the US and North Korea in recent days.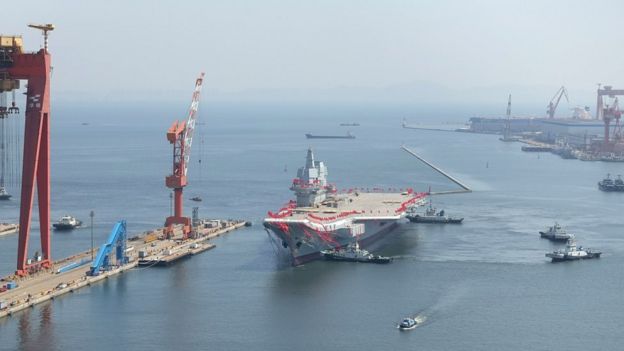 China has had only one operational aircraft carrier, the Liaoning, which it bought from Ukraine and refitted.
The US has deployed warships and a submarine to the Korean peninsula, prompting an angry reaction from North Korea. China has urged calm.
There is also the ongoing issue of competing territorial claims in the South China Sea.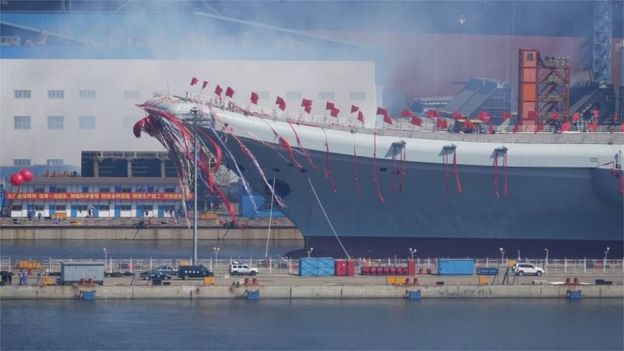 The new carrier will deploy Shenyang J-15 fighter jets, but is considered by many military observers to be technologically inferior to the 10 carriers used by the United States navy, says the BBC's China correspondent Stephen McDonell.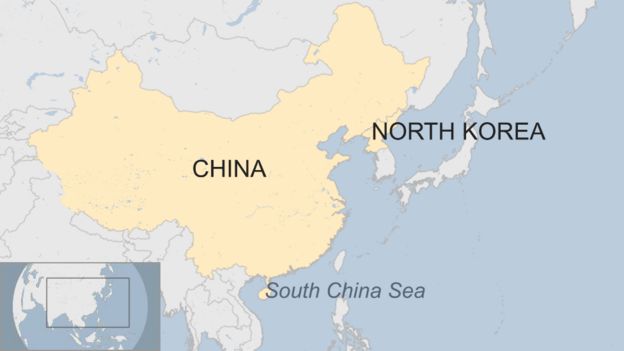 ---
Timeline of recent tensions
11 April:North Korea says it will defend itself "by powerful force of arms" after US orders a navy strike group to move towards the Korean peninsula
15 April: North Korea puts on a huge military parade - complete with missiles - to mark 105th birthday of the nation's founding president, Kim Il-sung
16 April: North Korea conducts a rocket test, but it fails
17 April: Senior North Korean official tells the BBC the country will continue to test missiles "weekly" and the US vice-president warns North Korea not to "test" Donald Trump
23 April: North Korea says it is "ready to sink" the US aircraft carrier
---
The new carrier is touted as a significant upgrade from the Liaoning, which was built more than 25 years ago and is a refurbished ship from the days of the Soviet Union.
It has been seen by some analysts as a kind of training vessel in preparation for the new carrier, our correspondent says.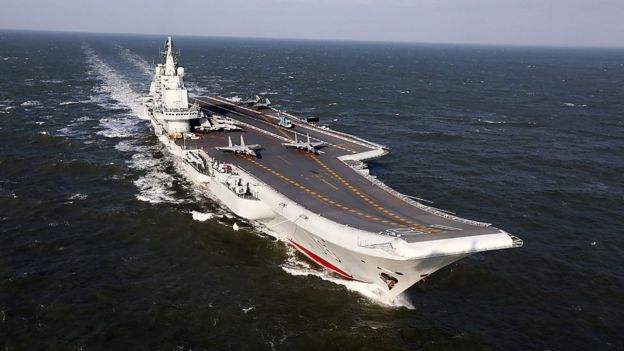 China's first aircraft carrier, the Liaoning, is a refurbished Soviet ship
But China has been modernising its armed forces recently as its economy expands.
In March, it announced it would increase its military budget by about 7% this year - the second year in a row that increases have been less than 10%, after nearly 20 years of larger increases.
China's defence budget remains smaller than that of the US, however.
While China's military spending will be about 1.3% of the country's projected GDP in 2017, the US spends roughly 3% of its economic output on the military - and the US economy is larger, so the dollar value difference is enormous.
US President Donald Trump has also proposed a 10% increase in the military budget.
Chinese state news agency Xinhua said work had started on China's latest aircraft carrier in 2013.
The launch was attended by the vice-president of China's central military commission, Fan Changlong.
Officials smashed a bottle of champagne on the ship's hull as "magnificent patriotic songs" played on loudspeakers and nearby ships sounded their horns in celebration, reported Xinhua.
The defence ministry said previously that it would carry China's J-15 aircraft along with other planes, and that it would use conventional rather than nuclear propulsion.
BBC