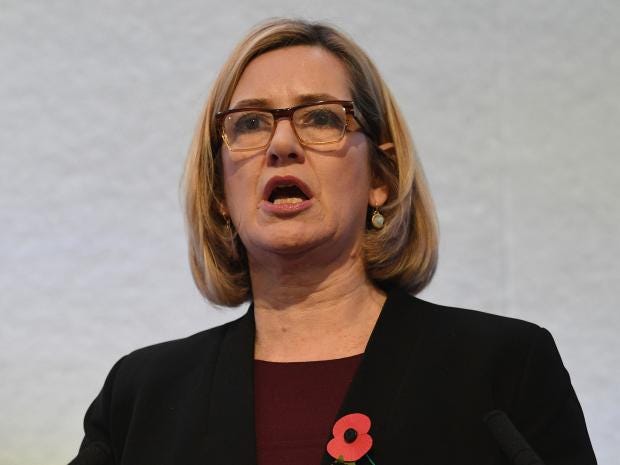 Amber Rudd said Sergei Skripal and his daughter, Yulia, remain in a 'very serious condition' PA
Amber Rudd will update MPs this morning on the investigation into the poisoning of a former Russian spy and his daughter.
Sergei Skripal and his daughter, Yulia, were poisoned in Salisbury on Sunday with a chemical that investigators have confirmed was a form of nerve agent.
The Government is facing growing calls to take tough action against Russia if it becomes clear that Moscow was involved in the apparent assassination attempt.
MPs will later hold a debate to mark International Women's Day.
Elsewhere, Liam Fox and John McDonnell are due to speak at the British Chambers of Commerce annual conference.
Live Updates
Amber Rudd is now giving a statement to MPs on the Salisbury poisoning investigation.
The Home Secretary said the victims, Sergei Skripal and his daughter Yulia, remain in hospital in a "stable but critical condition".
A third victim, a police officer who responded to the incident, is in a  "serious but stable" condition and is "conscious, talking and engaging", she adds.
Speaking at the British Chambers of Commerce conference this morning, Liam Fox accused the EU of acting "like a gang" over threats to punish Britain over Brexit as talks move towards a critical phase.
The International Trade Secretary called for an "economic Brexit rather than a political Brexit" to protect consumers.
Dr Fox said: "The idea of punishing Britain is not the language of a club, it's the language of a gang."
He added: "I do believe that rationality and common sense will win the day if we conduct ourselves with decorum and patience.
"I think therefore it's in all our interests to keep the temperature down."
Taking aim at gloomy newspaper reports about Brexit, Dr Fox said: "If you read some of our national publications, I don't need to name them I imagine, you could be forgiven for thinking we were about to enter some sort of economic black hole.
"Nothing could be further from the truth."
He said there was a "bright future" outside the European Union but the "practices and patterns of the past" cannot determine Britain's future.
He cited predictions from the IMF that 90% of global growth would be outside the EU and praised the dynamism of China as well as African nations
The Government has rejected the EU's demand that Britain give European countries access to its fishing waters after Brexit.
Brussels has proposed that ""existing reciprocal access to fishing waters and resources should be maintained" when Britain leaves the EU.
Asked about the issue in the House of Commons, George Eustice, the farming minister, said:
"I simply say this is an EU position. They currently benefit considerably from access to UK waters. At the moment the UK fleet access around 100,000 tonnes of fish in EU waters. The EU access 700,000 tonnes of fish from UK waters. So, they would say that, wouldn't they? But it is not a position that the UK government shares."
Amber Rudd suggested this morning that the UK has a plan to deal with the people behind the poisoning of Sergei Skripal and his daughter Yulia, if and when the culprits are identified. 
Home Secretary Amber Rudd has warned that Britain has a plan of action in place to deal with those who attempted to assassinate a former Russian spy on UK soil. The Cabinet minister also said members of the public may not hear about all of the action British security services take to keep the people safe.2 hours agoView image on Twitter
A new report by Labour calls on the Government to use next week's Spring Statement to plug the £2bn funding gap for children's services. John McDonnell, the Shadow Chancellor, said vulnerable children are "paying the price" of austerity.
Vulnerable children are "paying the price" of austerity as children's services face a gaping funding gap, Labour has warned. A report published by the party today said the number of children in care shot up last year by more than in any year since 2010. John McDonnell, the Shadow Chancellor, said it was a "national scandal" that, despite growing demand, children's services are facing a £2bn funding gap by 2020, according to the Local Government Association (LGA).3 hours ago
Welcome to The Independent's Westminster liveblog. 
Amber Rudd spoke to the BBC's Today programme a few minutes ago. 
used to be drawn on whether she believes Russia was responsible for the poisoning of Sergei Skripal and his daughter, Yullia. Rudd said:
"Whatever attribution takes place in the future we have to make sure we have all the evidence. They key thing is to have a cool head and allow [investigators] to continue that job, which they are doing with speed and with detail and with the support of professionalism we can expect."
Asked how the Government might respond if Moscow is found to have been involved, she said:
"The government has a range of options, including people, including sanctions, including other things it can do, but at the moment we are not really speculating on those are. We are making sure we look after the incident."
She had earlier told ITV's Good Morning Britain that the policeman who was also taken ill after helping the Sergei and Yulia Skripal remains in a serious condition but is conscious and talking. She said:"I've spoken to Mark Rowley this morning. The two targets are still in a very serious condition. The policeman is talking and is engaging, so I'm more optimistic for him. But it is too early to say. This is a nerve agent. We are still treating it as very serious."
independent.co.uk