Mr Pence, speaking in Brussels, sought to reassure European allies worried by some of Mr Trump's statements.
Donald Tusk, the president of the European Council, said the EU was counting on unequivocal US support for a united Europe.
Mr Trump's comments on Brexit and the role of Nato have unsettled allies.
His vice-president, who said Mr Trump had asked him to travel to Brussels, is now holding talks with European Commission President Jean-Claude Juncker.
Mr Juncker said the US needed "a strong, united European Union".
"This is not the moment for Europe to divide itself into former national, provincial categories," he said.
Donald Trump has previously spoken out in favour of Brexit, telling The Times last month that he thought the UK was "so smart in getting out".
Mr Tusk said the meeting with Mr Pence was "truly needed", after what he described as "too many new and sometimes surprising opinions" that had been voiced in past months "for us to pretend that everything is as it used to be".
The idea of Nato was not obsolete, Mr Tusk said, in his statement after meeting the vice-president - a reference to Mr Trump's use of the word to describe the North Atlantic Treaty Organisation last month.
Mr Pence told leaders gathered at the Munich Security Conference at the weekend that the US would be "unwavering" in its support for Nato.
He also said the US would continue to hold Russia accountable over the Ukraine conflict, though he said that President Trump believed that new common ground can be found with Russia.
The president himself sought to clarify his remarks about a terrorist attack in Sweden which did not happen.
During a rally on Saturday, he listed parts of Europe that have been hit by terror attacks and included Sweden.
 
But on Sunday, he tweeted that he had been referring to a TV report.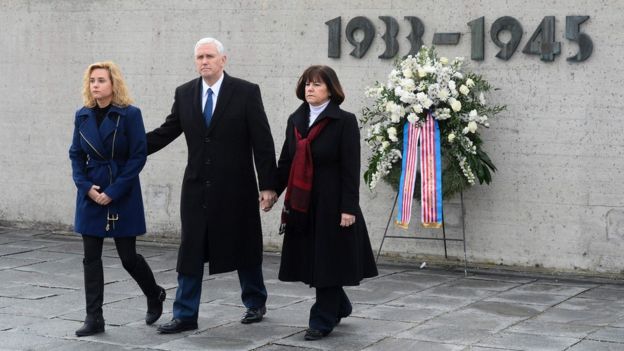 The vice-president, accompanied by his wife and daughter, visited the former Nazi concentration camp of Dachau on Sunday
BBC