He used a Kalashnikov assault rifle to kill the police officer with two bullets to the head, François Molins told journalists in the 
Candidates in Sunday's presidential election have been accused of exploiting the attack politically.
Cheurfi had four criminal convictions, the prosecutor said.
Friday is the last day of campaigning before Sunday's presidential election.
The killer had spoken about wanting to kill police officers but had had no apparent link to Islamist radicalism, Mr Molins said.
IS has said one of its "fighters" carried out the attack.
What do we know about the killer?
Cheurfi was arrested and his home searched in February after an inquiry was opened over reports that he had been talking of killing police and getting weapons, Mr Molins said.
An undated photo of Karim Cheurfi has been circulating
Hunting knives, masks and a GoPro camera were found but this was not considered sufficient proof of his murderous intent.
"At that stage, no link with the radical Islamist movement was apparent," the Paris prosecutor said. "Nothing justified further investigations by my office."
Born on New Year's Eve in 1977 in the Livry-Gargan suburb of north-eastern Paris, Cheurfi was jailed four times for attempted murder, violence and theft.
In April 2001, while driving a stolen car, he fired on and wounded two men who had chased him, one of them a plain clothes police officer.
He last emerged from prison in October 2015 and was living in the eastern suburb of Chelles.
His lawyer described him as psychologically fragile and neighbours in Chelles said he had never shown any interest in religion.
Three members of the gunman's family were arrested for questioning.
How did the attack unfold?
Driving an Audi, the gunman arrived in the Champs Elysees area at 20:47 (18:47 GMT) on Thursday and drove up to a police bus parked on the avenue, Mr Molins said.
Getting out, he opened fire at the driver's window, killing a police officer inside. The officer has been named as Xavier Jugelé.
He then went around the bus and fired on two police officers posted outside a Turkish tourist office. It was announced earlier that two officers had been injured.
Security forces later shot Cheurfi dead.
Terrified eyewitnesses later recounted scenes of panic as they ran for cover.
Who was the victim?
Police officer Xavier Jugelé, 37, was an active campaigner for gay rights, French media report.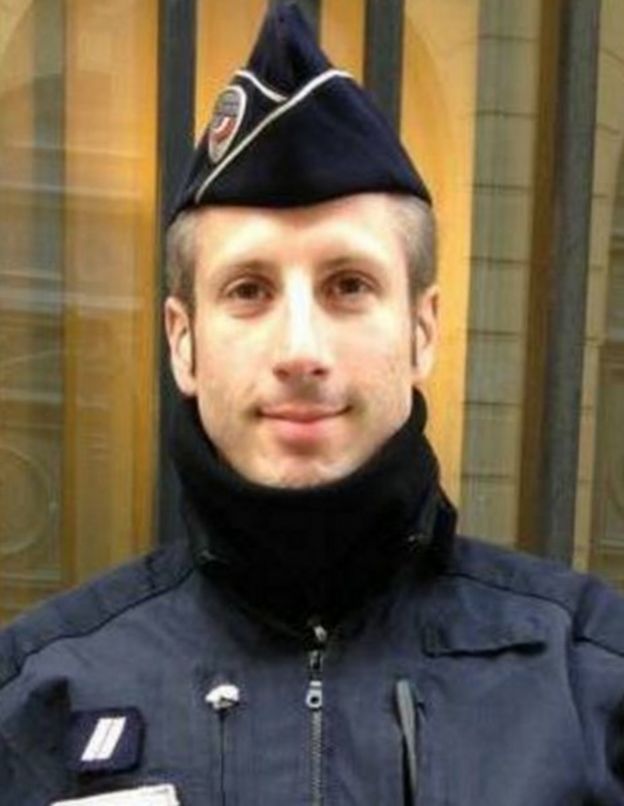 An undated image of Xavier Jugelé has circulated on Twitter
Originally from the Loire Valley region in central France, he had been serving in the capital since 2014, French daily Liberation writes (in French).
On 13 November 2015, he was deployed to secure the area around the Bataclan concert hall after the IS attack, Le Parisen writes (in French).
When the venue reopened last November with a concert by Sting, Mr Jugelé was there again, telling the US's People magazine: "I'm happy to be here... We're here tonight as witnesses. Here to defend our civic values. This concert's to celebrate life. To say no to terrorists."
What is the election row about?
Leading candidates on the right were accused by Prime Minister Bernard Cazeneuve of cynically exploiting the attack in the final hours of the campaign (which ends at midnight local time on Friday).
The far right's Marine Le Pen pledged to expel radical Islamists while the centre-right's François Fillon talked of fighting "Islamist totalitarianism".
Both also attacked the record of the Socialist government in handling law and order.
---
Recent terror attacks in France
7-9 Jan 2015 - Two Islamist gunmen storm the Paris offices of satirical magazine Charlie Hebdo, killing 17 people. Another Islamist militant kills a policewoman the next day and takes hostages at a Jewish supermarket in Paris. Four hostages are killed before police shoot the gunman dead. The other two gunmen are cornered and killed by police in a siege.
13 Nov 2015 - IS jihadists armed with bombs and assault rifles attack Paris, targeting the national stadium, cafes and Bataclan concert hall. The co-ordinated assault leaves 130 people dead, and more than 350 wounded.
13 Jun 2016 -A knife-wielding jihadist kills a police officer and his partner at their home in Magnanville, west of Paris. He declares allegiance to IS, and police later kill him.
14 Jul 2016 - A huge lorry mows down a crowd of people on the Nice beachfront during Bastille Day celebrations, killing 86. IS claims the attack - by a Tunisian-born driver, later shot dead by police.
26 Jul 2016 - Two attackers slits the throat of a priest at his church in Saint-Etienne-du-Rouvray, in Normandy. They are shot dead by police.
3 Feb 2017 - A machete-wielding Egyptian man shouting "Allahu akbar" attacks French soldiers at Paris's Louvre Museum - he is shot and wounded.
20 Apr 2017 - A known terror suspect opens fire at police on the Champs Elysees in Paris, killing one and wounding two. He is shot dead - and the assault is claimed by IS.
---
BBC