Local media say the 39-year-old lived in the city's suburbs, and had been seen as a potential Islamist radical.
The gunman wounded two police officers before being shot dead by security forces on the Champs Elysees.
A pump-action shotgun and knives were found in his car, the French TV station BFMTV reported.
Another man suspected of possible links to the attack has turned himself in to Belgian police.
French police have also taken three family members of the gunman into custody, Reuters reports, citing a legal source.
Prime Minister Bernard Cazeneuve said security forces, including elite units, were fully mobilised ahead of Sunday's presidential elections.
"Nothing must be allowed to impede the fundamental democratic process of our country," he said after an emergency security cabinet meeting.
So-called Islamic State (IS) has said one of its "fighters" carried out the attack.
What happened on Thursday on the Champs Elysees?
A car pulled up alongside a police bus just before 21:00 (19:00 GMT) and a man got out, opening fire on the bus with an automatic weapon, Interior Ministry spokesman Pierre-Henry Brandet said.
After killing an officer, the man attempted to run away while shooting at other officers, two of whom he injured, the spokesman added.
He was then shot dead by security forces.
Terrified eyewitness later recounted scenes of panic as they ran for cover after hearing gunfire.
The whole of the Champs Elysees was evacuated.
What is known about the attacker?
Paris prosecutor François Molins said shortly after the shootings that "the attacker's identity is known and has been verified".
Belgium's interior minister has told VRT public broadcaster that the gunman was a French national.
French media have named him as Karim Cheurfi, although this has not been officially confirmed.
Mr Cheufi was convicted in the early 2000s of attempted murder in the shooting of two police officers and served several years in prison.
More recently the intelligence services identified him as a potential Islamist radical, French media say.
Police have carried out searches at an address in the Paris suburb of Chelles overnight.
Meanwhile, IS named the attacker as Abu-Yusuf al-Baljiki, in a statement carried by its Amaq news outlet.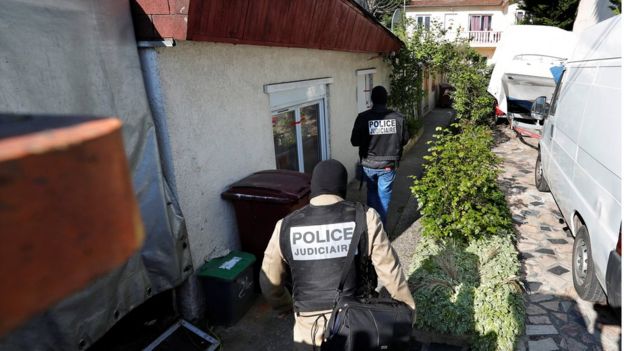 Police searched an address in the Paris suburb of Chelles
Could the attack influence the elections?
The attack took place as 11 candidates in Sunday's closely fought presidential election were engaged in a final joint TV appearance to argue their policies.
Three of the four main candidates, centrist Emmanuel Macron, centre-right Francois Fillon and far-right Marine Le Pen, have called off planned events on Friday, which would have been the final day of campaigning.
Front National candidate Marine Le Pen said in a press conference on Friday morning that France should immediately reinstate border checks and expel foreigners who are on the watch lists of intelligence services.
Mr Fillon said on Friday that the fight against " Islamist totalitarianism" should be the priority of the next president, calling for better cooperation between world powers, and saying he would boost security services, review the penal code and isolate radical prisoners.
Meanwhile, Independent centrist Emmanuel Macron urged French citizens not to "give in to fear".
"What they want is a collapse in morality, what they want is to watch us fall into ruin," he said.
After the attack, Jean-Luc Mélenchon, standing for the far left, tweeted: "I strongly feel for the policemen killed and wounded and their families. Terrorist attacks will never go unpunished, accomplices never forgotten."
BBC