US President Donald Trump has been welcomed to Blenheim Palace by Theresa May, on the first day of his UK visit.
The black-tie dinner, with 150 invited guests, is expected to focus on post-Brexit trade, and comes days after Mr Trump said the UK was in "turmoil".
He and First Lady Melania Trump arrived in the UK on Thursday afternoon.
Protesters have gathered outside the US ambassador's residence in London, where the Trumps are staying tonight, and near Blenheim Palace.
Extra security is in place to police the protests, but Mr Trump has said that Britons "like me a lot" and that he feels "fine" about any such protests.
The Trumps left Winfield House at approximately 19:00 BST, with Mrs Trump wearing a full-length yellow dress with a pleated skirt.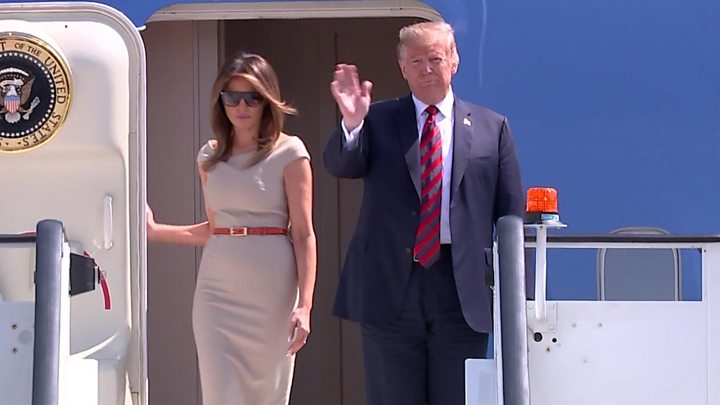 Mr Trump, who will also spend time with the Queen during his two-day working visit, said earlier of the British public: "I think they agree with me on immigration... You see what's going on throughout the world with immigration... I think that's why Brexit happened."
He said "Brexit is Brexit" and the British people "voted to break it up, so I imagine that's what they'll do but maybe they're taking a different route - I don't know if that is what they voted for".
Mr Trump has recently been under fire for his own immigration policy, which resulted in the separation of immigrant families.
The Trumps landed at Stansted Airport, Essex, at 13:50 BST before a helicopter took them to Winfield House in Regent's Park, where they are staying as guests of the US ambassador.
He was met at the airport by dignitaries including International Trade Secretary Liam Fox and US ambassador Woody Johnson.
Speaking at the Nato summit in Brussels before he arrived, Mr Trump said the UK was a "hot spot right now".
BBC
Updated:
12.07.2018 22:43