The Argentinean navy has insisted a missing submarine was in good condition and had passed system safety checks before setting off on a training mission 10 days ago.
Some relatives of the 44 missing crew members had suggested the 34-year-old vessel was in a bad state of repair.
The ARA San Juan last made contact with naval authorities on 15 November.
Hopes of finding survivors are fading among relatives fade despite international search efforts.
"We are at a stage of hope and hopelessness at the same time," navy spokesman Enrique Balbi said.
"We have to be guided by firm evidence. We are focused on detecting the submarine."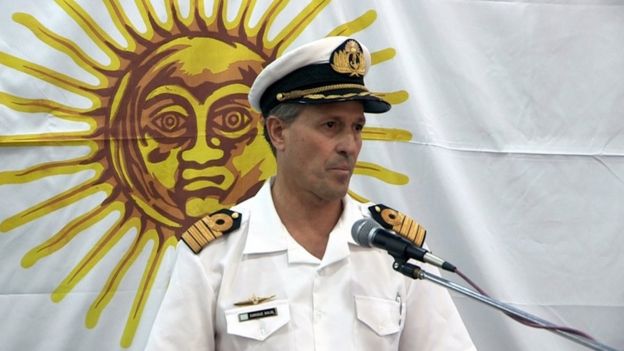 Enrique Balbi: "If it set off from Ushuaia, it was because it was in condition to do so"
Mr Balbi told a news conference that the submarine had its whole operating system checked two days before setting sail.
"The submarine doesn't sail if that's not done. If it set off... it was because it was in condition to do so," he said.
Relatives gathered at the submarine's naval base on Saturday to take part in a religious ceremony and were joined by hundreds of supporters.
Some have reportedly begun mourning their loved ones, fearing it is too late for them to be found alive.
On Friday the country's president said an inquiry would be launched to find out the "truth" after a week of uncertainty and speculation.
What is known about the missing submarine?
The submarine was returning from a routine mission to Ushuaia, near the southernmost tip of South America, when it reported an "electrical breakdown".
A naval commander said the submarine had surfaced and reported the breakdown, described as a "short circuit" in its batteries. The navy said it then made further contact to say the problem had been fixed and the submarine would proceed toward its port.
.
What happens when a submarine goes missing?
On Thursday, the authorities said an event consistent with an explosion had been detected by a nuclear test watchdog.
The Vienna-based Comprehensive Nuclear-Test-Ban Treaty Organisation (CTBTO) said an "abnormal, singular, short, violent, non-nuclear event" was recorded in the South Atlantic.
The US also reported a "hydro-acoustic anomaly" hours after the submarine went missing, close to its last known location.
The news dashed hopes among relatives, although no wreckage or debris has been found by the international search teams.
On Saturday a military spokesman said the submarine was not carrying torpedoes on board, dismissing a theory there had been an accident with explosives it was carrying.
Who is on board?

The crew of the ARA San Juan comprises 43 men and one woman
There are 44 crew members on board, under the command of Pedro Martín Fernández.
BBC
Updated:
27.11.2017 09:15