Thomas Meunier and Eden Hazard combined to secure Belgium's best performance at a World Cup as they edged England 2-0 in the third-place play-off in St Petersburg on Saturday.
Having fallen one match shy of a maiden final appearance in Tuesday's slim 1-0 defeat to France, the Red Devils' vaunted golden generation lifted themselves off the canvass to improve upon the fourth-place finish managed by Enzo Scifo, Jan Ceulemans and company in 1986.
Meunier was the unlikely hero early on as his close-range finish in the opening exchanges denied England what would have been their best tournament result since lifting the trophy 52 years ago.
Belgium's electrifying start mirrored that which Gareth Southgate's men had made in their semi-final loss to Croatia, when a Kieran Trippier free-kick in the fifth minute looked likely to book them a second berth on the big stage.
But they eventually fell in extra time then and again conceded late in a less pressurised environment this time around, Hazard wrapping up victory - and Belgium's second tournament win over England - with his third of the campaign in the 82nd minute.
Harry Kane's struggles in the knockout rounds continued but, with Romelu Lukaku unable to add to the four he netted in Group G, should take home England's only silverware as the likely Golden Boot winner, with Kylian Mbappe and Antoine Griezmann three goals behind Kane's tally of six.
Suspended for the loss to France, Meunier's return as one of two changes allowed Martinez to revert to his preferred three-man defensive shape.
The Paris Saint-Germain wing-back needed just four minutes to illustrate his value, racing into the box to get across Danny Rose and tuck home Nacer Chadli's classy low cross in from the left.
The tournament's top scorers were fluid going forward and might have been further ahead had Jordan Pickford not clawed away a deflected Kevin De Bruyne finish.
Kane should have brought England level 10 minutes later but, from an intelligent Raheem Sterling lay-off, scuffed wide of the left post.
Tottenham team-mate Toby Alderweireld was similarly wasteful when he hooked over the bar shortly after the half-hour, although Belgium's only real setback by half-time was the loss of Chadli to an apparent hamstring injury.
Southgate responded to the deficit by introducing Marcus Rashford and Jesse Lingard in place of Sterling and Danny Rose at the interval.
Manchester United midfielder Lingard almost made the desired impact when his drive across goal narrowly evaded captain Kane.
At the other end, Lukaku's heavy touch on the end of a clever De Bruyne pass scuppered the striker's final chance to close in on his opposite number's tally, Dries Mertens replacing him on the hour.
With a sluggish Kane continuing to struggle, it was left to Eric Dier to go closest to equalising 20 minutes from time. The midfielder burst through for a one-on-one and delicately dinked over Courtois, only to see a retreating Alderweireld desperately hack the ball off the line.
Everton keeper Pickford, a contender for the team of the tournament, kept his country in the game with a sublime one-handed save from Meunier in the 80th minute.
But it mattered little in the end, Hazard making no mistake with his near-post finish having been sent clean through by De Bruyne, the star pair combining to put a fitting seal on Belgium's impressive showing in Russia.
---
Full-time: Belgium 2-0 England
Belgium have taken the bronze medal, they very least they deserve from a strong campaign. England finishes fourth, equalling their best ever achievement at an overseas World Cup and surpassing all reasonable people's pre-tournament predictions. Having said that, given how the draw panned out, this was a par result. Beyond results, however, they played and acted with a personality that rekindled their country's affection for their national team and that will be the abiding memory for them from the 2018 World Cup.
---
90 min: Another individuals prize that is up for grabs is Player of the Tournament. It is usually awarded to someone who has reached the final and, as such, will probably be given to Modric, Mbappe, Varane or Kante. But Hazard has been brilliant throughout.
---
89 min: Dier, who has had a good second half, overhits an attempted pass to Kane, allowing Courtois to clean up.
---
87 min: England, understandably, are becoming reckless in their attempt to get something from this game, leaving even more gaps for Belgium to exploit. The toll could yet increase...
---
85 min: Hazards leads another Belgian charge forward, zooming over the ground like a shark through water. But then he leaves his pass to De Bruyne shot, allowing England to intercept.
---
England substitution: Alli on, Loftus-Cheek off. If Jamie vardy is fully fit, he's entitled to be well peeved.
---
GOAL! Belgium 2-0 England (Hazard 82)
Super goal. De Bruyne collected the ball in midfield and turned and ran at England. He then slipped ball into Hazard as Jones got his feet in a muddle. That's something Hazard never does: instead he bore down and Pickford and picked his spot into the bottom corner.
---
80 min: What a break by Belgium! With a precision flick and one-time passes, they hurtled from their own box into the English one, whereupon Mertens hung a splendid cross up to the far post. Meunier arrived to meet it with a firm volley. Pickford stood up to it to make a fine save!
---
Belgium substitution: Dembélé on, Tielemans off. That's a reflection of the degree of control England have managed to establish in midfield in the second half.
---
78 min: Dier has come on strong in this second period. He's just flipped a nice pass from outside the D to Loftus-Cheek, who couldn't quite get under control.
---
76 min: After being under pressure for quite a while, Belgium launch a counter-attack through De Bruyne, who feeds Mertens and then continues running towards the box in anticipation of a return ball. But Mertens has other ideas and fancies curling one into the top corner from 20 yards. Nope, not today, Dries. It sails about 15 yards wide.
---
74 min: Maguire heads wide from another Trippier freekick.
---
73 min: A cute chipped pass by Trippier to Lingard, who does well to hit it first-time across the face of goal. Dier meets it and sends a downwards header wider from seven yards.
---
72 min: Kompany turns a dangerous freekick by Trippier behind for a corner. England are turning the screw a little on Belgium. "Has a third place play-off ever gone to penalties?" asks Simon Davies. "It would feel like the most pointless shoot-out ever (and might be more fun that way)." The third-place playoff at Euro 1980 went to a shootout and Czechoslovakia beat Italy 9-8. And it was so much fun that Uefa decided to scrap third-place playoffs after that.
---
70 min: Lovely interplay between Rashford and Dier leaves the Tottenham player with a one-on-one with Courtois! Dier dinks it over the advancing keeper from eight yards ... but Alderweireld slides it to hook it off the line!
---
69 min: Dier has a crack from long-range, but Courtois saves his low drive without ado.
---
67 min: Good play by England to pen Belgium back and then create room for Loftus-Cheek to cross from the right. It's a cracking delivery across the face of goal, though a nick off Vermaelen takes it beyond the reach of Kane.
---
66 min: Trippier hangs up a cross to the edge of the area, where Kane had peeled off to receive it. But he botches his attempted volley, ending up on his derrière again.
---
64 min: Kompany produces a foxy flick at the near post to send Mertens' corner into the mixer. No Belgian anticipated that, however, and England are able to welly it away.
---
63 min: A lovely Belgian move opens up England, but Delph saves the day with an outstanding last-ditch tackle on Meunier.
---
Belgium substitution: Mertens on, Lukaku off. That's a good decision by Martinez. Can't be allowing one player's pursuit of individual glory to get in the away of the team. That's not to suggest that Lukaku has played in a selfish way - he certainly hasn't - just that he's been off-form today and needed to be replaced.
---
56 min: De Bruyne rolls a sumptuous pass through the legs of Stones and into the path of Lukaku. but Lukaku's control's lets him down and the ball runs through to Pickford. Both strikers have been scruffy today. Maybe the Golden Boot should roll over to the next tournament and the winner then could be presented with one for each foot?
---
54 min: Lingard flashes the ball across the face of goal with a cross/shot. Kane stretches to try to apply a decisive touch but misses by millimetres. England have played with more intensity, speed and directness in this half. There is hope.
---
52 min: Stones booked for pulling down Hazard as Belgium broke away after clearing England's corner. if a Japanese player had done that earlier in this tournament, Belgium wouldn't be here today.
---
51 min: Trippier hoists in a freekick from the right. It's an excellent delivery, at speed and landing teasingly close to Courtois about five yards out. Alderweireld makes an excellent intervention to stab it over the bar for a corner.
---
49 min: England have been brighter in this half, eager to run at their opponents. "In order to make these matches more interesting, how about from now on Fifa say that the third-place team qualifies automatically for the next World Cup." But then you'd also have to give slots to the winners and runners-up, which take up three places at the next tournament before the qualification process even begins. Fifa might start thinking of expanding it to a 64-team tournament if they aren't plotting that already, the bozos.
---
47 min: Kompany hurries across to disrupt a good burst down the right by Loftus-Cheek.
---
England substitutions: Lingard and Rashford on, Rose and Sterling off. I don't know why Kane is still on the pitch.
---
"Will Kane be the least impressive golden boot winner ever?" asks Chris Foley. You mean you're not impressed by two close-range predatory strikes, three penalties and a flukey deflection? It's got to be down there with Oleg Salenko's haul in 1994, when five of his six goals came against a shambolic Cameroon side.
---
Looking again at the chance that Kane missed, it really was a weak effort (after a nice set-up by Sterling). A very scruffy attempt, as he went to ground as he shot and wound up directing the ball several yards wide of the target. Danny Welbeck, for instance, tends to always end up on his backside after shooting but Kane, not so much. But he's had a bad tournament.
---
Belgium 1-0 England
Belgium have been the better side and deserve their lead.
---
45 min: Stones keeps his eye on the ball and chooses the right moment to intervene and stop Lukaku from scoring on the break.
---
44 min: Shoddy control or a clever flick? That's not clear, but either way Loftus-Cheek's touch outfoxes Vermaelen and opens up the hint of an opening for England. but Courtois is quick to spot it and dahses off his line to gather the ball before Loftus-Cheek can regain it.
---
42 min: "Is there a weirder spectacle than the third place playoff at the World Cup?" wonders Kari Tulinius. " Last time around it was the last stop on the Brazilian shametrain. This one doesn't have much of a shape yet, so far it's a bunch of high-class players operating on muscle memory and ingrained habits. It's a bit like watching the last contractually obligated concert of a band that has split up. Hopefully something happens to set the teams' competitive fire ablaze." I hear what you're saying but I think, in this case, the fact is that Belgium want to win and are doing as much as they have to: England haven't been good enough to force them to excel.
---
40 min: A hefty touch by Sterling gifts the ball back to De Bruyne in the Belgian half. England haven't kept the ball well enough when pressure has been applied. But at least Sterling has regularly found a way to receive a pass. Kane, on the other hand, has barely featured in this match. In fact, despite his goal tally, he's had an inadequate tournament, if you ask me. And yes, I know you didn't ask me.
---
Belgian substitution: Vermaelen on, Chadli off. Presumably that means Vetonghen will go to left wingback and Vermaelen will slot into the centre.
---
38 min: Belgium, temporarily down to 10 because Chadli has not yet been replaced, launch a counter-attack down the right. De Bruyne's cross to the back post is headed behind in extremis by Trippier.
---
36 mins: Chadli is down receiving some vigorous rubbing, seemingly having strained his hamstring. he doesn't look like he's going to be able to continue...
---
35 min: De Bruyne pulls the corner out to Tielemans at the edge of the area. The midfielder's miscues his shot but Alderwerield improvises impressively and almost salvages a goal, his acrobatic effort flying wide from 10 yards.
---
34 min: The probing concludes with De Bruyne picking out Hazard, who had dashed into the box. Stones flings himself in front of the shot to deflect it out for a corner.
---
32 min: As if trying to contradict my previous entry, Meunier aims a nothing-cross into the English area. It's easily cleared. but Belgium regain the ball and resume probing in the manner described.
---
30 min: Belgium enjoy a spell of possession. Their movement and passing is significantly sharper and crisper than England's are when England have the ball.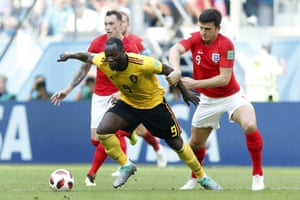 Romelu Lukaku, left, surges past England's Harry Maguire. Photograph: Natacha Pisarenko/AP
---
27 min: Lukaku pounces on a loose ball midway inside the English half. He lays it off to Chadli, who seeks Hazard, who wriggles his way into the English box before knocking it back for Tielemans to have a bang. Tielemans' shot is charged down (by Stones, I think).
---
25 min: England have steadied themselves over the last few minutes and played the ball around quite nicely, although you do get the sense that Belgium are happy enough to allow them to do that in innocuous places with a view to nicking it off them and striking on the counter. "About Danny Rose's socks," begins J Walker. "I think it's because they are too tight on the calves so the holes relieve some of the pressure. He had the same look in the last match."
---
22 min: After good English play, featuring a canny pass by Dier, Sterling tees up Kane, who slashes a bouncing ball wide from 16 yards.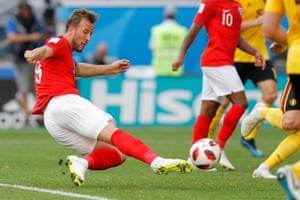 Harry Kane lashes the ball wide. Photograph: Tom Jenkins/Guardian
---
20 min: Maguire towers above Kompany and gets his header to a corner about 10 yards out. It's straight at Courtois, who again saves easily. "Any idea what's going on with Danny Rose's socks?" asks Mark Childs. "I'm transfixed by the holes..." He does have big holes in the back of his socks but I've no idea why. Symbolic of the gaps in England's midfield and defence, perhaps?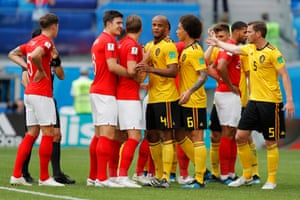 The love train pulls into the Belgian penalty area. Photograph: Tom Jenkins/Guardian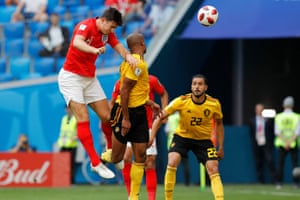 Harry Maguire beats Vincent Kompany in the air but can't direct it past Courtois. Photograph: Tom Jenkins/Guardian
---
18 min: Stones joins an English attack, receiving the ball about 15 yards outside the Belgian box and knocking it on to Delph, who shows nifty foot work to help it on to Sterling. But the third of the Man City players is quickly surrounded by Belgians, who prevent him from turning on the penalty spot and getting off a shot.
---
17 min: De Bruyne splits England's defence open with a gorgeous pass through the legs of Dier. Lukaku just fails to collect it after making a smart run behind Trippier.
---
15 min: Kompany pokes the ball off the feet of Kane, who barely been visible so far. Trippier retrieves it wide on the right and crosses quickly to Loftus-Cheek, who meets it with a respectable header from 15 yards. But it had neither the power nor the precision to stretch Courtois.
---
14 min: Delph has a go from 20 yards, a low, curling effort with his right foot. It's on target but too weak to trouble Courtois.
---
13 min: De Bruyne and Hazard again revel in the space where England's midfield should be, but this time Jones helps out Stones and England manage to stop Hazard's run at the edge of the area.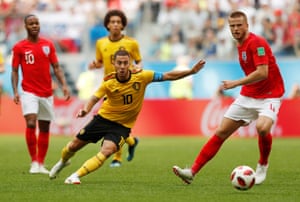 Belgium's Eden Hazard causes problems for England's Eric Dier. Photograph: Lee Smith/Reuters
---
11 min: Hazard pings a low pass to Lukaku, who sends it on to De Bruyne thanks in part to more jittery English defending. De Bruyne sends a sidefooted shot from 16 yards goalward from the left-hand side of the box. It takes a deflection ... and forces Pickford to show his agility and a strong hand to bat it away!
---
9 min: A setpiece for England! A freekick to the left, mid-way inside the Belgian half. Trippier curls in an in-swinger. But it's not one out of the training ground playbook, as it floats well beyond any English player, and Vertonghen nudges it back to Courtois.
---
7 min: Tripper sends in a reasonable low cross from the right but Belgium clear without fuss.
---
4 min: That was a nicely-constructed goal by Belgian and well finished by Meunier, albeit with his shin. But England's resistance was very flimsy. There were huge holes in midfield as hazard slashed through it and Rose was caught unaware as Meunier stole in front of him.
---
GOAL! Belgium 1-0 England (Meunier 4)
Meunier pokes home from six yards after a cross from the right by Chadli!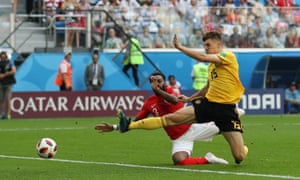 Thomas Meunier gets infront of Danny Rose and sticks out a leg .... Photograph: Catherine Ivill/Getty Images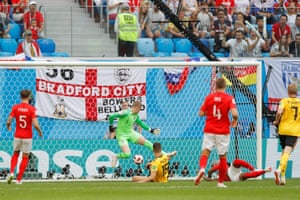 To stab the ball past Jordan Pickford to give Belgium a very early lead. Photograph: Tom Jenkins/Guardian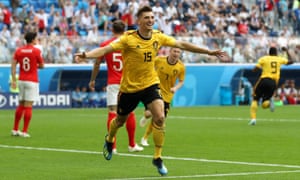 Meunier celebrates his goal. Photograph: Catherine Ivill/Getty Images
---
2 min: Some bright early play by Rose, wins the ball off De Bruyne and then steads himself and plays a careful pass to Stones, allowing England to begin a bit of possession play.
---
1 min: Three, two, one ... we have kickoff! Belgium, wearing yellow shirts and black shorts, do the honours.
---
As you can see from the lineups below, Gareth Southgate has made five changes to the side that started that sad defeat by Croatia. Henderson, Lingard, Young, Walker and Alli have all dropped out - at least partly due to fitness worries - while Jones, Rose, Dier, Delph and Loftus-Cheek come in. As for Belgium, they've gone strong, with all their main men starting, with Meunier returning at right wingback after missing the semi-final through suspension, and Youri Tielemans coming into midfield in place of Fellaini. Belgium looks to have a lot more creativity than England so Lukaku has a fair chance of emulating players such as Toto Schillaci, Thomas Muller and Davon Suker, all of used the third-place playoff to give their Golden Boot push a decisive late boost. Let's see what Kane can do about that.
---
Teams
Belgium: Courtois; Alderweireld, Kompany, Vertonghen; Meunier, Tielemans, Witsel, Chadli; De Bruyne, Lukaku, Hazard
Subs: Mignolet, Casteels, Vermaelen, Boyata, Dendoncker, Fellaini, Dembélé, Carrasco, T. Hazard, Mertens, Januzaj, Batshuayi
England: Pickford; Stones, Jones, Maguire; Trippier, Dier, Delph, Loftus-Cheek, Rose; Sterling, Kane
Subs: Walker, Lingard, Henderson, Vardy, Buland, Welbeck, Cahill, Young, Rashford, Alli, Alexander-Arnold, Pope
Referee: A Faghani (Ira)
Updated:
15.07.2018 06:52