Croatia will face France in the final of the 2018 World Cup in Moscow after scraping past England 2-1 in extra-time on Wednesday.
Mario Mandzukic's extra-time strike completed a battling turnaround as Croatia beat England 2-1 in Moscow to reach the World Cup final for the first time in their history.
England made an electric start with Kieran Trippier's early goal and for a large period of the game looked good value to book their passage to the final for the first time since 1966, but Croatia somehow battled through their apparent jadedness and tamed the Three Lions in extra-time, Mandzukic landing the decisive blow.
Gareth Southgate consistently downplayed the euphoria in his team in the build-up, and for a while England gave every indication they were going to take charge of their own destiny, as Trippier found the net with a delightful free-kick in the fifth minute.
But Croatia rallied and gave England's back three more of an examination upon the start of the second period, eventually restoring parity – Ivan Perisic providing a clever finish in the 68th minute.
England managed to hang on to force an extra 30 minutes and initially looked the more threatening of the two teams once again in the additional period.
But Croatia kept their focus and Mandzukic struck left-footed in the 109th minute, ending England's dreams for another four years and setting up a final with France on Sunday, as Zlatko Dalic's men move another step closer to a first World Cup title.
---
EXTRA TIME, FULL TIME: Croatia 2-1 England
The free kick's no good. Floated in. The man-of-the-match Perisic races off with the ball ... and the English dream is over. Croatia will play France in the 2018 World Cup final!
---
ET 30 min +4: England will have one last set piece to save themselves! Alli tries to burst down the left. Badelj stops him, but only by handling! England load the box. Rashford takes!
---
ET 30 min +3: Perisic romps down the left. Crosses. Pickford claims and launches long but can't find anyone.
---
ET 30 min +2: After a tussle for the ball, Alli gathers Rakitic's shirt into his fist, in the old-school cartoon style. Again, it nearly descends into saloon-style shenanigans, but the ref snuffs it out. Dier hoists long but Subasic claims.
---
ET 30 min +1: Rakitic and Perisic meander down the left. The clock ticks on. There are now three minutes for England to save their World Cup dream.
---
ET 30 min: Croatia triangulate nicely down the right. Suddenly Kramaric is romping into the box! He's got Perisic free in the middle, but decides to go for the top right. He only ripples the side netting. There will be four minutes of added time.
---
ET 29 min: Modric is replaced by Badelj.
---
ET 28 min: Trippier can't continue. He's being helped off. Meanwhile, on the field, the ten men of England win a free kick down the left, Alli fouled. England load the box. Rashford floats it into the mixer. The ball flicks off Lovren's head, but the ref thinks it's come off Maguire. Goal kick.
---
ET 26 min: Meanwhile Trippier limps off with a groin complaint. He looks in a bad way. England will defend the corner with ten men. Perisic has a crack from distance. Pickford mishandles but gathers ... and is barged by an over-enthusiastic Vida. Free kick. For a second it looks like kicking off, but the referee is over quickly, and to be honest, Pickford just wants to get on with it.
---
ET 25 min: Pivaric and Rakitic combine well down the left, earning a corner. Before it can be taken, Mandzukic is replaced by Corluka. The big striker takes his own sweet time to leave the field of play, and the referee performs the international mime for "I'm adding on some time, son."
---
ET 23 min: Rashford hoists in from the left, hoping to find Alli. But Subasic is out quickly to spring high and claim.
---
ET 22 min: Gareth Southgate rolls the dice for the last time, replacing Walker with Vardy. Rashford races down the left and lifts a cross into the box. But there's nobody in white nearby. Modric clears calmly.
---
ET 20 min: A fine finish by Mandzukic, though it was more sleepy defending by England. This is the first time they've fallen behind on their Russian adventure. Can they rescue themselves at the death?
---
GOAL! Croatia 2-1 England (Mandzukic ET 19)
England fails to clear a high ball down the left. Perisic beats Trippier to a header to the left of the D. Mandzukic meets the dropping ball, and flashes an unstoppable low shot across Pickford and into the bottom right.
---
ET 18 min: Croatia take it quickly. England are snoozing. Brozovic barrels down the inside-left channel into acres of space. He's in the area and meets the ball ... but blazes it high and wide left. England breathe again, because that was poor defending.
---
ET 17 min: Croatia are hogging the ball in the early stages of this final period. Perisic, who has been excellent tonight, works his way down the left and wins a corner.
---
And we're off again! Again! Croatia get the ball rolling. Goodness knows how this final period will pan out. We're 15 minutes away from penalty kicks; just saying.
---
EXTRA TIME, HALF TIME: Croatia 1-1 England
The corner leads to nothing. Modric faffs about on the left, and that's that for the first half of extra time. That was outstanding save by Pickford, who is unquestionably one of England's players of the tournament. If not the England player of the tournament, Kane's goals and all. Mandzukic is still walking very gingerly.
---
ET 15 min +2: Then Perisic, deep on the left, curls low for Mandzukic, on the edge of the six-yard box. Pickford comes out bravely to put the striker off: he star jumps and Mandzukic's effort is deflected wide and high. What a save! But he's also crumped Mandzukic in his trouser arrangement with his knee. So there's a bit of time for the striker to catch his breath before the corner's taken.
---
ET 15 min +1: There will be two minutes added to this period. In the first, Perisic is sent scampering into space down the left. He pulls one back for Kramaric, who hits first time. But his shot is blocked.
---
ET 15 min: The game has slowed to walking pace now. A mixture of exhaustion and nervous tension.
---
ET 13 min: Rose has been dangerous since his introduction. He makes good ground down the left, and his fizzing cross is well dealt with by Lovren. England have regained the initiative, after seriously rocking during that second half.
---
ET 12 min: Croatia's free kick is a waste of time.
---
ET 11 min: England have been the better team since the start of extra time. But then Croatia launch pretty much their first attack of the period. Vrsaljko races down the right. Rashford slides in. No contact, but it's a free kick anyway. Before that can be taken, Rebic is replaced by the in-form Kramaric.
---
ET 9 min: Trippier's ball flashes onto the head of Stones, 12 yards out and level with the right-hand post. Stones guides his header towards the top left. It's going in, but Vrsaljko is on the line and clears! So close!
---
ET 8 min: Dier is immediately into the action, earning a corner with a speculative shot from distance. Trippier will take, out on the right.
---
ET 7 min: Trippier chips the free-kick into the area, towards Maguire. But now it's a free kick for Croatia, Henderson having knocked Mandzukic over. And that's Henderson's evening over: he's replaced by Dier.
---
ET 6 min: Rose goes skittering at pace down the middle. Rebic slides in from behind and picks up a yellow card. The free kick is central, and a good 35 yards out. Here's Gary Byrne: "Regardless of the result, France are absolutely loving this."
---
ET 4 min: England are seeing more of the ball. You'd think Croatia - older, and with an extra period of half time in their legs - could struggle if this keeps up. Strinic goes down, feeling his groin. It looks as though he'll be hooked for Pivaric ... though he's taking an age to traipse off.
---
ET 2 min: England turn down the chance of throwing high into the box, and the chance to put Croatia under pressure is gone.
---
Here we go again! England have made another change, swapping Young for Rose. They kick off, and quickly Rashford is making his presence felt down the right. He earns a throw deep in Croatian territtory. England should have had a corner, Brozovic hacking clear from behind the byline, but they don't get it.
---
FULL TIME: Croatia 1-1 England
It was always going to be this way, wasn't it. We're slap-bang in the middle of an epic.
---
90 min +2: Trippier loops a slow one to the far post. Kane meets it, but from eight yards flashes a header wide left. That wasn't the easiest of chances ... but it wasn't the hardest, either. Kane wears the disappointed look of a man who knows he should have done a little better.
---
90 min +1: Rashford dribbles infield from the right and is clumsily bowled to the ground by Rakitic. What a chance for England to load the box, and score from yet another set piece. If they do, they're in the final!
---
90 min: Lovren attempts a shot from 30 yards. Hats off for ambition, I suppose. There are three extra minutes between these two street-fighting teams and extra time.
---
88 min: Rebic is released into a little space out on the left. He hoofs a needlessly panicked cross out of play on the other wing. A lot of players thinking about extra time now. A lot of players dreading making a mistake that would almost certainly decide this semi-final.
---
87 min: Kane, deep on the left, nearly finds Lingard with a clever threaded diagonal pass. It's inches away from the striker, who can't sort his feet out in time to control. Lingard was free on the spot. This is beyond tense!
---
86 min: Strinic dribbles in from the left, a wonderful solo run. He thinks about shooting, but instead looks for Perisic in acres on the right. Wrong choice. His pass is wild, sailing out for a throw. Perisic stretches to reach it in the knackered style. He puts his hands on his knees and takes a few gulps of air.
---
84 min: England fail to deal with a high ball. Pickford comes off his line to punch. It's not a good one, falling straight to Perisic, out on the left. Perisic tries to return it instantly, the net now unguarded, but hoists it over the bar.
---
83 min: Brozovic dinks a pass down the inside-right channel. Mandzukic, who has been quiet, swivels and hammers a shot at goal from a tight-ish angle. Pickford parries brilliantly. England go up the other end. A long ball deceives Vida, nearly letting Rashford in. Subasic rises high to claim.
---
81 min: Trippier nearly sends the very dangerous Perisic through with a weak prod back towards his keeper. Stones does just enough to stop Perisic wriggling free, and Pickford hammers clear ... though he nearly hits Perisic in doing so. The nerves are rattling all right.
---
80 min: Stones is hassled and harried by Rebic. The ball flies out of play for a throw. Stones unleashes a volley of abuse at the referee. For a throw in the midfield! The stress is beginning to show.
---
78 min: England are looking dangerous for the first time this half. Croatia can't get out of their box. Henderson tries to release Lingard. The ball breaks back to him. He tries a dipping volley. Over the bar. This really could go either way: neither team looks secure at the back. And the nerves will really start to kick in right about now.
---
77 min: Rakitic, deep on the left, sends a high diagonal ball into the middle. Pickford comes to the edge of his box to claim well, under severe pressure from the marauding Perisic. England go up the other end, Lingard gliding into the box down the inside-right channel and dragging a shot across the face of goal. That wasn't far away from creeping into the bottom left.
---
75 min: Croatia are playing at a high tempo now. They sense blood. Vrsaljko moves down the right. His low cross nearly finds Perisic on the penalty spot. England hack clear. They survive. Just.
---
74 min: England makes the first change of the evening, swapping Sterling for Rashford.
---
73 min: England are rocking. Croatia win a corner down the right. Vrsaljko's ball in is half cleared. Brozovic latches onto it, and blazes a 20-yarder a similar distance over the bar.
---
71 min: Croatia hit the post! Stones hesitates on the edge of the area, and shanks a clearance. Perisic drops a shoulder and enters the box down the left. He whistles a low shot across Pickford and off the right-hand upright! The ball breaks to Rebic, who can only waft a soft first-time shot into the grateful arms of Pickford!
---
70 min: England have been a little passive since the restart. Kane tries to get them going, racing down the left and launching diagonally for Trippier, romping into the box from the other flank. There's just a bit too much juice on the pass. Goal kick. But that's a decent response to conceding the equaliser.
---
GOAL! Croatia 1-1 England (Perisic 68)
Croatia had been turning up the pressure, and now they've got their reward! Vrsaljko, deep on the right, curls towards the far post. Walker stoops to head clear, but Perisic nips in from behind, and high-kicks a first-time flick into the left-hand portion of the net! That's a superb finish! And it had been ... sort of ... coming.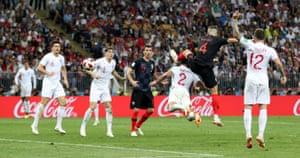 Ivan Perisic beats Kyle Walker to the ball ... Photograph: Carl Recine/Reuters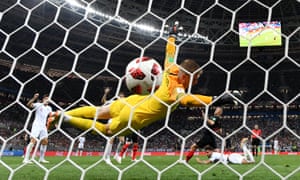 And it flies past Jordan Pickford to get Croatia back on level terms. Photograph: Dan Mullan/Getty Images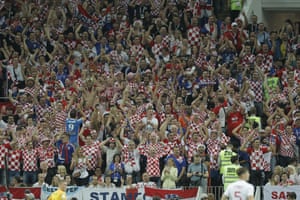 The Croatian fans celebrate. Photograph: Tom Jenkins for the Guardian
---
67 min: Kane races after a bouncing ball down the inside-right channel. He can only meet it just as it reaches the byline; his attempt to curl in a wonder-goal ripples the side netting.
---
65 min: Modric finally gets some joy down the right. His cross inside is half cleared, but only to Perisic, whose shot from the edge of the box is blocked by Walker. Ooyah, he's taken that in his fruit bowl. While he's down, Croatia throw another cross into the area. Walker gets up, heads one clear, and then goes back down in pain! That's some fine old-school determination! You sense Terry Butcher would approve.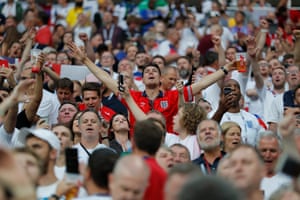 The England fans in the Luzhniki Stadium are enjoying themselves. Photograph: Tom Jenkins for the Guardian
---
63 min: Trippier slides a pass down the right, nearly releasing Lingard but forcing Vida into a heavy touch out of play. From the throw, Henderson eventually slips a gorgeous pass down the channel for Sterling, who tries to turn Vida but can't quite get past for a shot. Sterling stumbles, Croatia clear. Sterling doesn't request a penalty kick.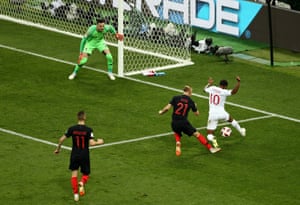 Raheem Sterling of England is challenged by Domagoj Vida of Croatia inside the penalty area. Photograph: Joosep Martinson/FIFA via Getty Images
---
61 min: Rakitic meets a loose ball, 25 yards out ... and shanks a hopeless effort miles over the crossbar. He allows the look of a frustrated man to slowly wash across his face.
---
59 min: Walker shins a poor Rebic left-wing cross out of play. Another corner for Croatia. Pickford clears to Lingard, who is shoulder charged out of the road by Lovren. A free kick, though England had plenty of men prepared to break; they'd have rather played on.
---
58 min: Rebic and Strinic combine cutely down the left, the former sending the latter into the box. He's got options in the middle, but can't find anyone in black and Maguire clears. Croatia are showing signs of flickering into life, without making a totally persuasive argument for getting back into this.
---
56 min: The ball's teed up for Lingard, 20 yards out, by Sterling. His shot is deflected out for a corner kick. Perisic clears, but the ball's sent down the right for Trippier, who crosses low. Kane attempts a Keith Houchen diving header, but can't connect. That would have been some goal!
 England's Harry Kane is denied by the boot of Croatia's Dejan Lovren. Photograph: Kai Pfaffenbach/Reuters
---
55 min: From the throw, Croatia force a corner. From which Lovren is penalised for Duggee-hugging Maguire. Dejan hug!
---
54 min: Walker is booked for stopping Croatia taking a quick throw. For a second, it looked like it might all kick off, as Rebic snatched the ball off him. But the referee was quick to calm everyone down.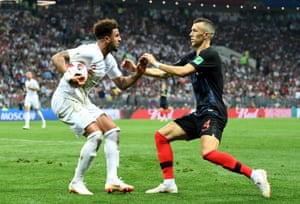 Kyle Walker of England plays keep-ball with Ivan Perisic of Croatia. Photograph: Michael Regan/FIFA via Getty Images
---
52 min: Rebic swings one in deep from the left. He's hoping to find Perisic coming in at the far post, but there's too much on the pass. Goal kick. Croatia are at least spending more time in England's half, but they're not doing very much to trouble their opponents.
---
51 min: Mandzukic has been booked for angrily punching the ball away after a common-or-garden decision went against his team. Croatia shouldn't lose the head yet, there's plenty of time.
---
49 min: Kane is bundled into the hoardings down the right as he contests a loose 50-50 with Vida. He's not happy about it, but the referee sees no transgression of the laws.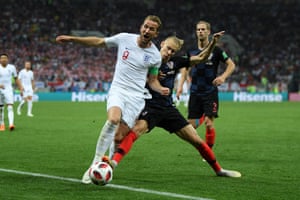 Domagoj Vida of Croatia and Harry Kane of England tussle. Photograph: Mike Hewitt/FIFA via Getty Images
---
48 min: Rebic is now booked for meeting Walker in the robust style once again. Croatia have obviously been told to take it up a notch.
---
47 min: Maguire - who has looked a little shaky on occasion tonight - misses a simple header on the edge of the area. There's some relief as the lurking Rebic clanks into Walker needlessly and concedes a free kick.
---
The teams are out again! Croatia get the ball rolling again. No changes. Croatia are historically very dangerous during the first 20 seconds of World Cup semi-finals, but there's no Davor Suker style surprise for England this time. We're 30 seconds in. Phew.
---
HALF TIME: Croatia 0-1 England
And that's that for the first half! In which Kieran Trippier has put England 45 minutes away from their second World Cup final! You'll be back for the second half, right?
---
45 min +2: A free kick for Croatia out on the left. It's hooked into the box and cleared by Walker. Meanwhile Lovren goes down very easily under a tug on the shoulder by Maguire. They check the VAR, but it's not a clear and obvious error. We've seen them given for that sort of thing during this World Cup, mind, but Croatia aren't getting a penalty.
---
45 min: A Maguire backpass nearly puts England in all sorts of bother. Walker just about ushers it back to Pickford, but the keeper tugs a terrible kick straight to Perisic, who races towards the box down the left. He dribbles inside with a view of getting closer and closer to shoot ... but over-elaborates. England clear.
---
43 min: Vrsaljko has a dig from distance. It wouldn't trouble Pickford if the keeper had 30-yard arms.
---
41 min: This half is kind of petering out, which is good news for Croatia, who really need to regroup. England have been well worth their lead, though they might think they really should have scored a second while the going was good. The next four or five minutes could be crucial.
---
39 min: A slight lull. Opportunity for Russians in the stadium to give pro-Ukrainian sloganeer Vida the bird. "Based on state of play, France would beat either of these teams while calmly sipping a pastis and smoking a couple of Gauloises," opines party-pooper Dan Weingrod. But what if they were blissed out on Calpol?
---
37 min: Space for Trippier down the right. His cross is no good. He's still in moral credit. He's got plenty of moral credit. "And yes, Dr Sawyer's Prescriptive Spoonful is what I'd call my band if I ever got around to forming one," writes 1967's Phil Sawyer.
---
36 min: England are threatening to put some distance between themselves and their opponents. Kane, bustling from deep, slips a clever pass down the inside left to release Alli into some space. Alli thinks about crafting a curler, but tees up Lingard instead. Lingard's in a lot of space on the edge of the D, but his gentle curler, aimed towards the bottom right, ends up sailing harmlessly wide.
---
34 min: Rebic is beginning to cause England a bit of trouble. He races down the inside-right channel after a crossfield pass, and is about to shoot when Young slides in to toepoke away. That's a crucial tackle, because for the first time Croatia could see the colour of Pickford's eyes. The resulting corner comes to nought.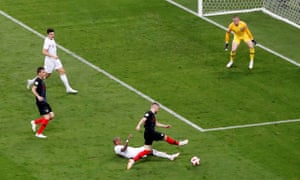 England's Ashley Young toe pokes the ball away from Croatia's Ante Rebic. Photograph: Damir Sagolj/Reuters
---
33 min: Rebic goes up for a long ball, but only succeeds in clattering Pickford to the floor. A foul, but nothing more, and we all play on.
---
32 min: Modric shows in the final third at last. His baroque dribbles confuse England awhile, and then the ball breaks back to Rebic, who sends a rising heatseeker towards the top left. Pickford has his hands warmed for the first time this evening, but it's an easy enough gather.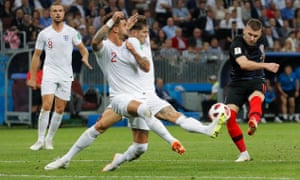 Ante Rebic of Croatia has a pop but it doesn't cause Jordan Pickford any problems. Photograph: Tom Jenkins for the Guardian
---
30 min: How on earth has Kane not scored here?! Lingard slips Kane free with a cute pass down the inside-left channel. Kane opens his body to sidefoot into the bottom right. Subasic stops, but the ball breaks left of the target. Kane, from a tight angle, manages to hit the post, the ball ricocheting back onto the keeper, up and away! That was utterly absurd, in very many ways!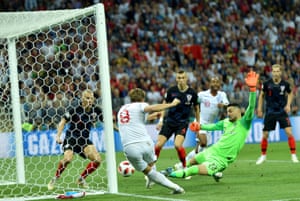 Harry Kane is thwarted again this time by the upright. Photograph: Peter Powell/EPA
---
29 min: Strinic, standing next to Perisic on the left, manages to pass the ball out of play while attempting to find his man. That's dismal. Croatia really need something to happen to get back on an even keel, because they're looking as nervous as England look confident.
---
27 min: Young hoicks it long into the mixer. Subasic, the box packed, does very well to punch clear at the far post.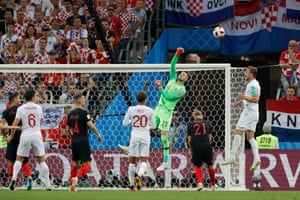 Croatia keeper Danijel Subasic punches the ball clear. Photograph: Tom Jenkins for the Guardian
---
26 min: Strinic curls one into the England box from the left, but there's nobody in black in the box. Sterling goes off down the left wing at great speed. He's blocked by Lovren, who is really chancing his arm now. But it's a free kick, and a chance to load the box. And you know what England are like at set pieces. "In belated news for William Davies, Actifed does the job," writes Phil Sawyer. "I've no idea if it works on kids, but it does the job for me. Might be needing one of Dr Sawyer's prescriptive spoonfuls by the end of all this excitement."
---
24 min: This is a gloriously open, end-to-end match. Perisic sends a shot well wide left at one end; Sterling briefly threatens to dribble his way straight through the Croatian defence, but falls at the last hurdle. The England fans are giving it plenty, as you'd imagine; their team are in the ascendancy here.
---
22 min: Lovren shoves Kane in the chest, two hands, as the striker threatens to zip past him in the centre circle. It should be a booking, but no. England give up possession from the free kick easily enough. But then Subasic sends the ball out to Strinic, putting the defender in all sorts of trouble. Sterling makes off with it, and should shoot from the edge of the area, but instead pings forward for Kane, who is miles offside. And drags his shot wide anyway.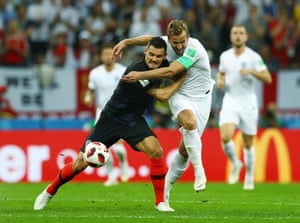 Harry Kane is shoved to the groud by Dejan Lovren. Photograph: Kieran McManus/BPI/Rex/Shutterstock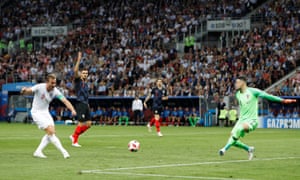 Kane hits the ball wide from an offside position. Photograph: Darren Staples/Reuters
---
21 min: A loose pass by Maguire allows Rebic to power in from the right. He shapes to shoot. Stones blocks bravely, getting his defensive pal out of trouble. Then another phase of attack, as Vrsaljko makes good on the right. His low cross evades everyone in a black shirt, and England clear.
---
19 min: Perisic cuts in from the left and has a whack, sending a low daisycutter inches wide of the left post. Pickford had it covered, were it on target. It should have been a corner, mind, flicking lightly off Walker's ankle, but Croatia aren't getting the decision.
---
18 min: Rakitic attempts to release Vrsaljko down the right with a raking crossfield pass. It flies into the stand, but so little have Croatia achieved in attack so far, it's theatrically applauded by his team-mate anyway. Croatia trying to keep their heads up.
---
16 min: Croatia are struggling to string two passes together right now. Vrsaljko, slightly frustrated, clatters into Kane. Not enough for a booking, but enough for the referee to keep it in mind going forward. "Kids asleep," reports Calpol and Talisker's William Davies. "Now what have I missed?"
---
14 min: England win another corner, Alli slipping a pass wide right for Trippier, who knocks the ball off Strinic. He takes the set piece himself. Maguire wins this one again, but from his position on the penalty spot, sends a downward header wide right. Croatia don't look comfortable at all. They're seriously rocking.
---
12 min: Alli, chasing a loose ball, forces Brozovic into the concession of a corner from 30 yards out. Maguire gets his head on the delivery from the left, but he's pushing and the referee relieves the pressure on Croatia.
---
11 min: Maguire and Stones take turns to play loose passes out of defence. In both instances, they're extremely fortunate not to give up possession and put themselves in bother. England will need to guard against over-confidence.
---
9 min: The corner's no good. It should be easily cleared by Alli, who does clear, but only after nearly passing straight to a black shirt. England skitter upfield at speed again, and Kane very nearly springs Steling clear ... but Vrsaljko does enough to get in the road. England are oozing confidence. They've sprung out of the blocks magnificently!
---
8 min: Perisic sends the ball into the England box from the left. Young miscontrols at the far post and concedes a corner. Croatia's first chance to test England.
---
7 min: That's a sensational strike. Croatia try to strike back immediately, Rebic hooking into the England box from the right. Pickford claims easily, and sets England away on another attack. Sterling skedaddles down the right after a long pass, and very nearly latches onto it, but Subasic is quickly off his line to smother. What a start by England! Whisper it: this is the way champions carry on.
---
GOAL! Croatia 0-1 England (Trippier 5)
Kieran Tripper scores his first goal for England, and what a strike! He takes the free kick, whips it over the wall, and back down into the top right. Subasic had no chance! Trippier joins Bobby Charlton and Gary Lineker as an English semi-final scorer!
---
4 min: But suddenly England burst into life, Lingard spinning in delicately from the right to feed Alli, who is bundled over by Modric, just in front of the D. A free kick in a very dangerous position! What a turn by Lingard though. Evidence of the confidence running through this England side.
---
3 min: England get their first feel of the ball, Walker, Maguire and Stones taking turns to stroke it back and forth. Eventually Pickford blooters it long and concedes possession. Then Mandzukic leaps into Stones to concede a free kick. This match has started in the very tatty fashion. Understandable, no?
---
2 min: Croatia knock it around the back a bit. Lingard goes clattering into Strinic and earns a calm-down chat from the ref. Nothing major, the ref knows it's just a bit of early nerves.
---
And we're off! England get their third World Cup semi-final underway! Huge roars. It's not long before Henderson bowls Rakitic over. A scrappy start. But what an atmosphere!
---
The teams
Croatia: Subasic, Vrsaljko, Lovren, Vida, Strinic, Rakitic, Brozovic, Rebic, Modric, Perisic, Mandzukic.
Subs: Livakovic, Corluka, Kovacic, Kramaric, Jedvaj, Bradaric, Caleta-Car, Badelj, Pjaca, Pivaric, Lovre Kalinic.
England: Pickford, Walker, Stones, Maguire, Trippier, Alli, Henderson, Lingard, Young, Sterling, Kane.
Subs: Butland, Rose, Dier, Vardy, Welbeck, Cahill, Jones, Delph, Rashford, Loftus-Cheek, Alexander-Arnold, Pope.
Referee: Cuneyt Cakir (Turkey).
Updated:
12.07.2018 10:49