Dele Alli got Tottenham off to a winning start in the Premier League as they edged out a spirited Newcastle United 2-1 at St James' Park.
Alli showed the aerial prowess that booked a World Cup semi-final spot for England last month as he steered a fine first-half finish across Martin Dubravka.
It concluded a frantic opening to the match, where Joselu's 11th-minute header cancelled out a Jan Vertonghen effort that was shown to be nine millimetres over the line by the Goal Decision System.
Mauricio Pochettino's Spurs were rarely at their fluent best - fatigue possibly a factor for the five World Cup semi-finalists in his starting XI - and Mohamed Diame and new signing Salomon Rondon were denied by post and crossbar as Newcastle chased a second equaliser in vain.
With all eyes on Harry Kane's bid to end his August goal drought that now stands at 14 Premier League matches, it was Tottenham's centre-backs who combined for the game's opening goal.
Davinson Sanchez flicked on Christian Eriksen's right-wing corner for Vertonghen to score, despite the best efforts of Dubravka.
The Spurs defence soon had a moment to forget, however, when Joselu pulled around the back of Sanchez to dispatch Matt Ritchie's superb delivery from the right.
It was three headed goals in 18 minutes when Serge Aurier picked out Alli at the far post from deep on the right flank.
Rafael Benitez's side were almost level in the 48th minute.
Diame was afforded room in the box to clatter a left-footed shot against the upright, while Alli should have done better at the other end when picked out by another delightful Eriksen ball.
Kenedy's heavy 51st-minute touch allowed Hugo Lloris to preserve Spurs' lead before opposite number Dubravka showed lightning reactions to deny ex-Newcastle man Moussa Sissoko.
More unconvincing set-piece defending left Lloris thwarting Ayoze Perez at close quarters and Tottenham just about hung on after Vertonghen deflected an effort from substitute Rondon against the crossbar.
What it means: Pochettino's faith in stability passes early test
Despite fan concerns over Tottenham's lack of activity during the transfer window, Pochettino's settled side are under way in their bid to continue the fine form that has brought top-three finishes in each of the past three seasons. Spurs can lift their performances a few levels above what they produced in the north east of England; how often Newcastle can perform in such a combative manner will have a key influence over their survival hopes.
Pat on the back: Eriksen excellence a delight
In a game marked by frantic periods of action and errors, Tottenham's Denmark playmaker was a cut above. Perhaps assisted by his country's World Cup absence, Spurs were spared sustained worries over Eriksen's future. As usual, he was their creative inspiration, supplying five key passes over the 90 minutes.
Boot up the backside: Kane's August woes continue
The novelty of Kane's run without a goal in the Premier League season's opening month stretching to 14 matches will not concern Pochettino greatly. However, the sight of his star striker lacking sharpness and ceding possession with heavy touches and poor passes might. This was a tired performance from the World Cup Golden Boot winner.
What's next
Newcastle will attempt to get their season up and running at newly promoted Cardiff City next weekend, while Tottenham will play a home match at Wembley for the final time when they host Fulham.
---
Full time: Newcastle 1-2 Tottenham Hotspur
Peep peep! Spurs start the season with a good win on a ground where Newcastle don't lose too often. It was a close game, settled by Dele Alli's smart header in the first half. We'll have reaction and a full match report shortly.
---
90+4 min Diame is booked for a foul on Kane.
---
90+3 min Newcastle probably deserve a point, having hit both the post and the bar. I doubt there is anything for them to worry about this season.
---
90+2 min Yedlin is being helped off, so Newcastle will finish the match with 10 men. He doesn't look in pain but he is struggling to put weight on his right leg.
---
90 min There will be four added minutes. Yedlin is down and looks in a lot of pain. He planted his right foot very awkwardly after stretching for a high ball; this might be ligament damage.
---
88 min Spurs make their final change, with Eric Dier limping off to be replaced by the 21-year-old debutant Luke Amos.
---
85 min: Rondon hits the bar! Newcastle's big signing almost equalises on his debut. Shelvey played a crisp pass to the edge of the area, where Rondon muscled Davies off the ball. That allowed him to get the ball off his feet and rake a shot that hit the stretching Vertonghen, wrongfooted Lloris and looped tantalisingly onto the face of the bar!
---
84 min Spurs are keeping Newcastle at arms length for the time being. The atmosphere is very quiet.
---
82 min Muto wriggles into the box and wins a corner for Newcastle. Shelvey's inswinger is fisted away by Lloris.
---
81 min Newcastle's final change: the debutant Yoshinori Muto replaces Ayoze Perez.
---
80 min A Spurs substitution: Son replaces Dele Alli, who scored a fine goal and has probably been the Man of the Match.
---
79 min Davies clips the ball down the left to Eriksen, who races into the box and lifts a cross that flashes past Dubravka and out of play on the far side.
---
78 min "That shot from Dembele makes me ask, why is there not a practice pitch where subs can actually touch the ball and take a shot rather than just stretch some muscles?" asks Daniel Friedman. "Like in baseball pitchers warm up with some pitches in the bullpen — why no footie bullpen?"
I suppose any new stadiums need that space for the Michelin-starred restaurant.
---
77 min Spurs appear to have declared at 2-1, which is a dangerous game away from home. Newcastle are having most of the ball now.
---
75 min "Welcome to a new season," says Felix Wood. "It's too early for it, there's no getting away from that. Not sure I agree with you on referees being reluctant to give cards being a good thing. I may be biased, but Croatia being able to haul down England players whenever it looked like there was a break on without fear of anything worse than giving away a free kick still rankles. Cynicism should always be punished in my book."
That's a fair point (though I didn't notice it in the England game). But I think it'd be good if referees were able to make a distinction between cynical fouls and, for want of a better word, honest ones.
---
73 min After a flurry of chances at the start of the second half, the game and the crowd have gone a bit quiet.
---
71 min Eriksen plays a square pass to Dembele, who blooters high and wide from 25 yards.
---
70 min Ritchie is furious at being substituted. He's effing at anyone and everyone, grinding his teeth in frustration.
---
69 min A Spurs change: Mousa Dembele replaces the underwhelming Lucas Moura. And Newcastle have brought on Christian Atsu for the excellent Matt Ritchie.
---
68 min Kane gives the ball away to Kenedy, fouls him and is booked.
---
67 min Ritchie is lucky not to be booked for a deliberate foul on Davies. It feels like referees are becoming more reluctant to show yellow cards, which is a welcome development.
---
66 min Dier, already booked, fouls Perez. Some referees would have sent him off for that, but I think Martin Atkinson was right not to do so.
---
65 min Here's Christian Svanes Kolding. "From Brooklyn, where darkened skies have descended to unleash heavy lashings of rain - cue Michael Bay - I can enthusiastically second the endorsement of yeast on the popcorn. It really brightens up your day and adds a bit of zing to your step. Now, if only Eriksen would score then this Dane would be well pleased."
---
64 min This is a good spell for Newcastle. If I was Mauricio Pochettino I'd bring on Son for Kane, who is as peripheral as he was at the World Cup. Something isn't right there.
---
62 min This has been such an open game, surprisingly so given the quality of the two defences.
---
60 min: Fine save by Lloris! That corner was not cleared properly by Spurs, and Perez hit an excellent shot on the turn from the corner of the six-yard box. Lloris had almost no reaction time but plunged to his right to make a brilliant stop.
---
59 min Ritchie plays a fine pass behind the defence for Joselu, but Sanchez scoots back to concede a corner. Good defending. That's Joselu's last touch: he is replaced by the new signing Salomon Rondon.
---
58 min Joselu is booked for a lunge at Eric Dier.
---
58 min Spurs are playing some lovely stuff now, with Alli and Eriksen to the fore. If they play like this when Kane is back to his best, they will be some team.
---
57 min Aurier's cross is half cleared by the flying Dubravka and volleyed over acrobatically by Sanchez. He could have had a hat-trick today.
---
56 min Lucas Moura and Kane work the ball out to Davies, who hammers a cross into the area. It finds Sissoko, who sweeps a first-time shot towards goal that is superbly saved by Dubravka!
---
53 min A brilliant dummy from Alli allows him to nutmeg Yedlin without touching the ball. He is having a fine game. Yes, yes, I know that's not technically a nutmeg but you know what a mean.
---
51 min: What a chance for Kenedy! Joselu's superb pass found him in all sorts of space on the left of the box, but Kenedy's first touch was poor and that allowed Lloris to sprawl at his feet and save. The ball came back to Kenedy, who shovelled it across the face of goal, and Aurier was able to clear desperately.
---
50 min Alli almost makes it 3-1. Eriksen's cross from the right took a touch off Kane, which affected Alli as he made another brilliant late run into the box. He couldn't put the brakes on and the ball hit him before looping towards goal, with Dubravka able to make a comfortable save.
---
49 min "Re Matt Dony's plea (31 min), I've cut out dairy (it was killing me and it's still killing the planet) and I can confirm that nothing really replaces cheese," says Gary Naylor. "The best alternatives are houmous - especially leavened with pomegranate seeds or something exotic - or guacamole (but watch the fat). A decent red might work better than the whisky too. PS I remain a less than convincing advert for such abstemious diets - though my kids are!"
---
47 min: Diame hits the post! The chance came out of nothing. Shelvey's towering header sent the ball into the Spurs area, where it dropped nicely for Diame on the left of the box. He took the ball down deftly and thundered a rising left-footed shot that clattered off the outside of the near post. I think Lloris was beaten.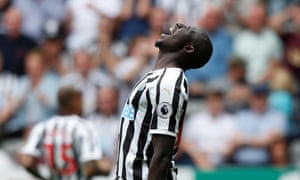 A frustrated Mohamed Diame. Photograph: Ed Sykes/Action Images via Reuters
---
47 min "I assume Matt has tried nut-based cheeses (excuse me, cheezes, for EU lawyers' sake), but they are truly awful," says James Hupp. "Hummus seems to be the only way to go here. And it doesn't totally rule out having someone over, whereas asking someone to partake of cashew-derived cheddar alternatives might."
---
46 min Peep peep! Newcastle get the second half under way.
---
Half-time chit chat "Afternoon, Rob," says Ian Copestake. "How was your pre-season? Did the Guardian put you all through your paces at an internet cafe in Marbella? The paint-ball team-building exercise might have been a tad unnecessary though."
The boot camp was the killer. It was a breeze to go without food or water, but to deprive journalists of Twitter for 72 hours was just barbaric.
---
Half-time: Newcastle 1-2 Spurs
Peep peep! That was 45 minutes of good, clean fun. Spurs deserve to be ahead, though there isn't much in it. See you in 15 minutes for the second half.
---
44 min Though they are behind, Newcastle will go into half-time in decent spirits. They have played much better in the last 15 minutes, with the wide attackers Kenedy and Ritchie increasingly influential.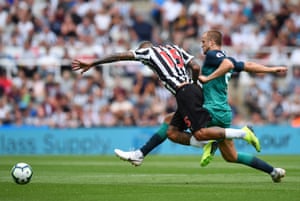 Kenedy is challenged by Eric Dier. Photograph: Tony Marshall/Getty Images
---
43 min "As a vegan for a number of years, I can say popcorn dusted with nutritional yeast is a delightful treat," says Joshua Reynolds. "No, really."
---
42 min Dier is booked for a foul on Kenedy.
---
39 min A Newcastle free-kick leads to a game of head tennis in the Spurs area. Eventually an inadequate header from Aurier falls to Clark, who drags a left-footed volley through the crowd and just wide of the far post.
---
37 min Davies's cross finds Kane in a scandalous amount of space at the near post. He eventually wins a corner, from which Sanchez almost makes it 3-1. It was a wicked inswinger from Eriksen towards the near post, where Sanchez got in front of Shelvey and flashed a header across goal. It was a really good chance, especially as Dubravka was in no man's land.
---
34 min Eriksen slides a nice through pass to Kane, who inexplicably miscontrols the ball. He would have been clear on goal. I thought he was offside actually, but I don't think the flag went up. Kane, as at the World Cup, doesn't look particularly sharp.
---
33 min It's been a good few minutes for Newcastle, who have spent more time in the Spurs half. Ritchie looks in the mood to make mischief; I'd get the ball to him at every opportunity.
---
31 min "In amongst all the goals and general excitement, can I canvass some advice from the learned and venerable brains-trust that makes up an MBM 'community'?" sniffs Matt Dony. "I realised that middle-age had truly set in (a few years ahead of schedule) when I had to acknowledge that cheese and crackers and whiskey in front of Match Of The Day wasn't an occasional treat, but a routine that had become preferable to going out on a Saturday night. ('What's that? The pub, you say? Nah, I'm busy...') Anyway, over the summer, I've gone vegan, so cheese is out of the picture. Any suggestions on what I should replace it with?"
---
29 min Kane's cross is punched away desperately by Dubravka. It comes to Aurier, just inside the box. He considers his options - good ones, all of them - and then belts a left-footed shot high and wide. Oh, Serge.
---
27 min Perez pressures Vertonghen into conceding a corner. Ritchie swings it out towards Clark, whose header is blocked by Alli. The loose ball eventually falls for Dummett, who swishes wide from 25 yards.
---
26 min Spurs are so dominant at the moment, with Newcastle really struggling to get and then keep possession.
---
22 min The only slight criticism of Spurs, apart from their defending for Joselu's goal, is that their build-up play has been a little deliberate at times. When they move the ball quickly they look so dangerous.
---
20 min Spurs are looking really good, with no signs of early-season rust. That's the big advantage of having no new players, I suppose. Meanwhile, replays confirm that Vertonghen did score the first Spurs goal. The ball was this far over the line. VAR may be a shambles in its current form but goalline technology works perfectly.
---
GOAL! Newcastle 1-2 Spurs (Alli 18)
We've had three goals in 11 minutes! This is another nice goal. Aurier, on the right, curls a beautiful first-time cross beyond the far post, where Alli makes a trademark late run and plants an accomplished header back across Dubravka.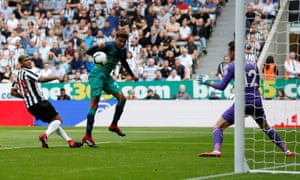 Dele Alli plants a header back across Dubravka. Photograph: Ed Sykes/Action Images via Reuters
---
13 min Spurs are controlling possession, to no great surprise, but Newcastle are well organised defensively and look lively on the break. It's a good game.
---
12 min I was just about to say that I think Vertonghen scored the Spurs goal. Dummett made a desperate challenge just as Vertonghen was about to head it, so it may have been his touch. But I think it was Vertonghen.
---
GOAL! Newcastle 1-1 Spurs (Joselu 11)
That didn't take long. Ritchie, on the right, whips a brilliant left-footed cross into the area, where Joselu gets away from the negligent Sanchez and kisses a header into the far corner. That's a really nice goal.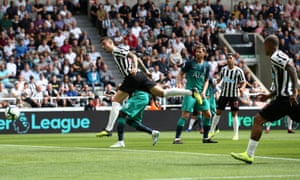 An unmarked Joselu heads home the equaliser. Photograph: Jan Kruger/Getty Images
---
GOAL! Newcastle 0-1 Spurs (Vertonghen 8)
Spurs take the lead from the resulting corner. Eriksen's outswinger from the right was flicked towards the far post by Sanchez, and Vertonghen stooped to head the ball onto the underside of the bar. It bounced down and landed just over the line, with technology confirming the goal.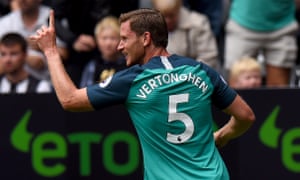 Jan Vertonghen celebrates after scoring the opening goal. Photograph: Tony Marshall/Getty Images
---
8 min Eriksen drags a low, left-footed shot from 25 yards that is fingertipped behind by Dubravka. It was going wide anyway but the keeper took no chances.
---
6 min Spurs look decent value to win the league at 16-1 but it's surely essential that they avoid their usual slow start to the season. Lucas Moura threatens to give them the lead here, surging into the box before clipping a shot that is crucially blocked by the sliding Clark.
---
5 min "As a Liverpool fan, I have high expectations and no doubt they'll provide lots of excitement," says Mike MacKenzie. "I just hope that they can reduce the number of nail-biting finishes! In any case, I'm looking forward to seeing how many clubs perform this year. I hope all MBMers can enjoy their club despite whatever problems it might have (even Newcastle whose fans I do empathize with; hope Rafa can keep them up). Finally, I must say that ending the transfer window before the start of the season was a great move."
---
4 min Shelvey and Perez combine nicely to find Joselu, whose shot is blocked by Dier. It's been a bright start by both sides. Moments later, Ritchie batters a loose ball over the bar from 20 yards.
---
3 min "I once taught in Newcastle," says Alun Pugh. "One of my colleagues well remembers teaching a young lad who was later to achieve some measure of sporting fame. Professional standards dictate I cannot reveal his name (it will all end in tears otherwise) but she told me 'That **** ******** was by some measure the daftest lad I ever taught'."
You wouldn't forget a brush with someone like that.
---
2 min Ciaran Clark gives away a silly free-kick with a reckless challenge on Sissoko near the byline on the right. Eriksen eschews the cross and clips it back to Davies, whose shot is blocked.
---
1 min Peep peep! Spurs kick off from left to right. Newcastle are in the usual black-and-white stripes; Spurs are wearing their neptune green (sic) third strip.
---
The players of both sides are going through the ritual of pre-match handshakes. Yep, it's time for some association football.
---
The teams
Newcastle (4-2-3-1) Dubravka; Yedlin, Lascelles, Clark, Dummett; Shelvey, Diame; Ritchie, Perez, Kenedy; Joselu.
Subs: Darlow, Schar, Manquillo, Ki, Atsu, Rondon, Muto.
Spurs (4-2-3-1) Lloris; Aurier, Sanchez, Vertonghen, Davies; Dier, Alli; Sissoko, Eriksen, Moura; Kane. 
Subs: Vorm, Alderweireld, Walker-Peters, Dembele, Amos, Son, Llorente.
Updated:
11.08.2018 16:29