Manchester United produced arguably their most complete performance of the season as they beat Watford 2-1 at Vicarage Road to end their hosts' 100 per cent start to the campaign.
A defeat for United would have seen them suffer three losses in their opening five Premier League games for the first time, but they picked up where they left off against Burnley prior to the international break, professionally dealing with an in-form Watford side.
Although the hosts initially looked bright, United finished the first half utterly dominant and 2-0 up thanks to Romelu Lukaku and Chris Smalling, whose goals were three minutes and 11 seconds apart.
Watford at least made things interesting with a 65th-minute Andre Gray strike, but United dug deep and fended off the home side's late advances to seal the points despite Nemanja Matic's red card deep into stoppage time.
Confidence appeared to be flowing through Watford early on and they went close to the opener through Troy Deeney, but David de Gea was United's saviour, tipping the striker's effort over.
United did manage to settle, however, and ultimately capitalised on De Gea's heroics with two quickfire goals late in the half.
Lukaku bundled in the first when latching on to Ashley Young's deflected cross 10 minutes from the break, before Marouane Fellaini headed a corner back into the danger zone and Smalling smashed home.
United were not quite so dominant after the restart and Watford found a foothold which ultimately allowed them to reduce the arrears – Gray finding the top-right corner from Abdoulaye Doucoure's cut-back.
Unfortunately for Watford, that goal was not the start of a famous turnaround, and United clung on to a second consecutive victory after Matic received a second caution, De Gea denying Christian Kabasele from the resulting free-kick.
What it means:
After consecutive defeats against Brighton and Hove Albion and Tottenham, United are looking a little more settled. Jose Mourinho may have drawn attention to himself in Friday's news conference with his Marcus Rashford rant, but his behaviour certainly did not appear to have any negative impact on the pitch. Even after Gray's goal, United showed character and held firm.
Pat on the back: Smalling with the big performance
He might not have been able to help United keep a clean sheet, but he made a vital impact at the other end and was generally in charge at the back, dealing with the typically difficult Deeney particularly well for the most part.
Boot up the backside: Pereyra lacking purpose
Roberto Pereyra has started the season impressively, playing arguably as well as he ever has in the Premier League, but he was not at his best. A couple of tussles with Antonio Valencia offered encouragement, but he failed to build on that.
What's next?
A hectic week follows for United, who begin their Champions League campaign at Young Boys on Wednesday, before returning to Premier League action at home to Wolves. Watford, on the other hand, travel to Fulham next Saturday.
---
Full time: Watford 1-2 Manchester United
It wasn't straightforward, or particularly pretty – particularly after Andre Gray pulled a goal back – but United held on and deserved the win.
---
94 mins: What a save! David De Gea has earned United two points here. Kabasele gets his head to the free kick, but the keeper springs to his left and denies him!
---
Red card! Matic gets a second booking
Matic trips Hughes as the midfielder bursts down the right wing, and gets a second yellow card! United down to 10 men, and Watford will have one more chance...
---
92 mins: Valencia is replaced by Bailly, with time running out for Watford. Martin Keown names Fellaini his man of the match. I feel dirty.
---
91 mins: Success nutmegs Matic and has a glimpse of goal, but Fellaini does well to close him down. He's probably been United's best player. Will Hughes is next to try and break through, but Lindelof denies him.
---
90 mins: Three added minutes.
---
89 mins: Doucoure has another dig from 25 yards. It's well-struck and on target, but De Gea is able to hold onto it.
---
88 mins: Hughes charges down Young's clearance, but the full-back does well to keep his cool and clear away.
---
87 mins: Martial scoots down the left and lifts a cross towards the far post, but there's nobody to get on the end of it. Success is on for Cathcart.
---
86 mins: Watford keep probing and pressing, but Deeney and Gray get in each other's way. Time to roll the dice – Isaac Success is coming on for Cathcart.
---
85 mins: Interesting that Gracia's two changes so far have been at full back. Have Holebas and Janmaat been a little overworked in his narrow system today?
---
84 mins: Holebas is replaced by summer signing Adam 'Funky Cold' Masina, who makes his first league appearance.
---
82 mins: United having to dig in now, and make the aforementioned change. They're good value for their lead, but that won't mean much if they can't hold onto it.
---
81 mins: Scott McTominay is coming on for Alexis Sanchez. The shutters are coming down! Valencia is booked for handball, but Holebas wastes the free kick.
---
79 mins: United looking the more likely to score just now, and Kabasele does brilliantly to get across Martial and make a tackle, as the striker was shaping to shoot.
---
77 mins: Holebas's corner dips towards the far post, but Fellaini gets a vital touch to clear away. Suddenly, United are breaking clear. Martial has Lukaku wide open through the middle, but his pass is behind the forward, who improvises nicely to play in Sanchez. Cathcart gets back and clears for a corner, before crunching into the onrushing Foster.
---
76 mins: Deeney hustles and bustles, backing into Smalling and winning a free kick that looks a little cheap. Holebas lifts it in, Lindelof heads away, and Watford win a corner...
---
74 mins: Doucoure, who has grown into the game in the second half, shapes to shoot from 25 yards, but it's a naff effort.
---
73 mins: United break through Martial down the right, but he's too hesitant, opting neither to run at his man or link up with Sanchez ahead of him.
---
71 mins: Kiko Femenia is on for Daryl Janmaat at right-back for Watford, and gets upfield fast, launching a long diagonal to Deeney, who nods it back – but Gray is comprehensively covered.
---
70 mins: Martial is on, replacing Lingard. What does Martin Keown think Martial's best attribute is? Why, pace of course.
---
69 mins: Mourinho is having a chat with Anthony Martial, who might offer a more direct threat than Jesse Lingard. Matic is booked for a trip on Doucoure as Watford broke a moment ago.
---
67 mins: United have a free kick but Pogba gives it away and Watford break. Pereyra looks to skip into the box and goes over Lindelof's leg. The home crowd bay for a free kick, but Deano isn't having it. And rightly so.
---
Watford build slowly, before Doucouré finds space down the left, and cuts the ball back across goal. André Gray is unmarked, just inside the area, and fires a lovely first-time finish beyond De Gea.
---
GOAL! Watford 1-2 Manchester United (Gray 64')
Watford are back in it!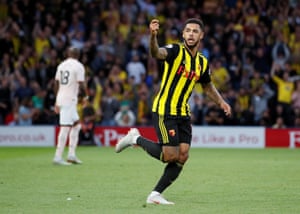 Watford's Andre Gray celebrates after pulling a goal back. Photograph: David Klein/Reuters
---
62 mins: Pogba lifts a diagonal ball across the pitch to Lukaku, who can't link up with Sanchez.
---
60 mins: Watford try to shake United out of their comfort zone, and they win another corner. Holebas whips it into a dangerous spot, and Smalling clears with Capoue charging in. Smalling has been really good today.
---
59 mins: Fellaini is the danger man again from the corner, but the outswinging delivery is a foot or so over his head.
---
58 mins: Pogba picks out Lukaku with a lovely slide-rule pass. Kabasele does well to stick with the striker and flick the ball behind as he tries to cut inside and shoot.
---
56 mins: Pereyra's free kick never looks like troubling De Gea. They'll have to do better than that to get back into this.
---
55 mins: Pereyra gets a free-kick as Valencia bundles him over on the edge of the area. Fellaini throws the ball away, but Mike Dean doesn't see it. Which will be disappointing for Mike Dean.
---
54 mins: Watford advance down the left and Holebas, pushing further forward in this half, whips the ball in. Smalling is on hand to clear.
---
52 mins: Janmaat's cross deep is nodded away from danger. United have dealt with Watford's aerial threat, and Deeney is starting to get frustrated.
---
51 mins: Lukaku does well to win a foul in midfield, putting an end to a spell of Watford pressure.
---
49 mins: Pogba cuts in from the left and fires a speculator wide of goal.
---
47 mins: In fact, it's Holebas who takes it with his left foot, but United clear.
---
46 mins: From Foster's long punt upfield, Young hauls Hughes down. Free kick, and Pereyra will look to swing this one in to the area...
---
Here we go again
Watford, sent out good and early by Javi Gracia, will kick off the second half.
---
Half time: Watford 0-2 Manchester United
After an evenly matched first half-hour, a quick one-two from Lukaku and Smalling has the visitors well on top.
---
46 mins: Valencia whips in a terrific cross to the far post, where Pogba is waiting. He cracks a volley at the near post, but Foster is behind it and parries behind. Anywhere but there, and United would be 3-0 up.
---
45 mins: Two minutes of added time.
---
43 mins: Watford hanging on a little, the visitors getting to everything first. Lukaku cuts in from the right and fires in a cross that's scrambled away.
---
40 mins: Mourinho absolutely loved that second goal, and United have a bit of swagger about them now, Pogba earning another corner that Deeney clears away. Watford need half-time.
---
GOAL! Watford 0-2 Manchester United (Smalling 38')
From the corner, Fellaini brings it down a few yards from the far post and hooks it back into the danger zone, where Smalling takes a touch and lashes a volley into the net!
 Manchester United's Chris Smalling lashes in their second goal. Photograph: David Klein/Reuters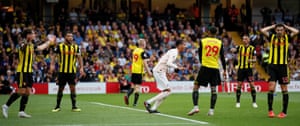 Smalling celebrates much to the chagrin of the Watford players around him. Photograph: David Klein/Reuters
---
GOAL! Watford 0-1 Manchester United (Lukaku 34')
Young's first free kick is cleared but he darts left and whips a second cross in. It bounces through to Lukaku, who bundles it in!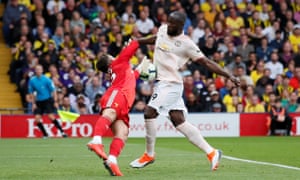 Romelu Lukaku's tummy opens the scoring and gives Manchester United the lead. Photograph: David Klein/Reuters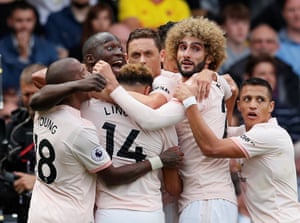 Lukaku celebrates scoring their first goal with teammates. Photograph: David Klein/Reuters
---
32 mins: Matic, at his reliable best so far, stops Pereyra's jinking run into the box. United break, and Capoue sends Lingard tumbling to cut the counter short. He's booked by Mike Dean.
---
31 mins: Oof! Sanchez goes the long way round Kabasele and zings a shot at the near post. Foster doesn't get a firm glove to it, but turns it over. That's as close as United have come in the first half-hour.
30 mins: Deeney and Gray are providing plenty of nuisance value. When one presses, the other darts upfield and they're constantly looking to link up.
---
27 mins: Watford break away and get a corner. Cathcart and Kabasele are heading up from the back, but Holebas's delivery is comfortably cleared by Matic.
---
26 mins: Watford happy to sit back and challenge United to unlock their defence. Unsurprisingly, they've struggled to do so thus far.
---
23 mins: It flies across the penalty box and out to the right, where Matic lifts it back into the area. Sánchez prods it into the net, but he's correctly flagged offside.
---
22 mins: Ashley Young gets forward, his legs whirring down the left, and forces a corner. Young takes the corner, Foster comes to punch and misses...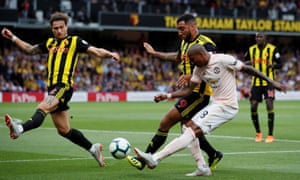 Manchester United's Ashley Young in action with Watford's Troy Deeney and Daryl Janmaat. Photograph: David Klein/Reuters
---
21 mins: United continue to have the lion's share of possession, but Watford are denying them space all over the pitch.
---
19 mins: After a long spell of United possession, Lukaku is flagged offside from Ashley Young's clever diagonal ball.
---
16 mins: A smart save from David de Gea, turning Deeney's shot over from 12 yards. He was played in by Gray after United collectively failed to deal with a long ball, and a slight nick off Smalling made the keeper's job harder.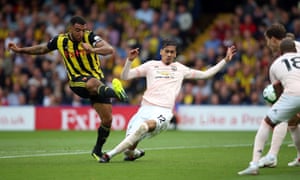 Watford's Troy Deeney (left) shots towards goal. Photograph: Nigel French/PA
---
14 mins: "There's only one Harry the Hornet," sing the home fans, stopping only to boo Ashley Young, who left the club in 2007.
---
13 mins: Up the other end, Hughes produces a carbon copy, albeit less well hit, and De Gea mops up.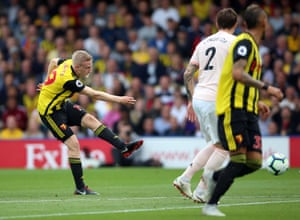 Watford's Will Hughes shotos towards goal. Photograph: Nigel French/PA
---
12 mins: Pogba gets plenty of power on a low, left-footed shot, but Foster gets down well and holds onto it.
---
10 mins: Pogba finds Lingard on the right, but his cross is cleared and Watford get a cheap free kick to ease the pressure.
---
9 mins: Fine work from Holebas, cantering back to cut off a United counter by taking the ball off Jesse Lingard.
---
7 mins: Doucoure nicks the ball off Sanchez's toes and Watford move upfield. Janmaat lifts a cross towards the unmarked Gray, and Matic does well to flick the ball away from danger.
---
5 mins: United getting some joy on the break already, Sanchez waiting and picking out Young on the left – but his low cross is easy for Foster.
---
4 mins: Doucouré gets an early glimpse at goal, sending a half-volley well wide from 20 yards out.
---
3 mins: Lukaku almost gets in, showing great awareness and touch to take down a hopeful long ball – but Foster comes out and snatches it off his boot. Martin Keown is quick to credit Lukaku's "raw pace".
---
2 mins: Watford are in their black and yellow stripes, United in pale pink. Both quite nice kits, in my view, but a bit much alongside each other.
---
1 min: Lukaku is offside from Lingard's toe-poke down the right.
---
Here we go!
Mike Dean, who doesn't look in the mood for any nonsense, gets us started.
---
Premier League results
Bournemouth 4-2 Leicester
Chelsea 4-1 Cardiff City
Huddersfield 0-1 Crystal Palace
Manchester City 3-0 Fulham
Newcastle 1-2 Arsenal
Goals galore in the 3pm games. Join Barry Glendenning to see how it all went down:
---
Newcastle 1-2 Arsenal, Manchester City 3-0 Fulham: clockwatch – as it happened
So, no changes for Watford, who stick with the attacking 4-4-2 set up that's been working nicely for them. One change for United, with Luke Shaw not in the squad. He was declared fit to play yesterday after concussion, but Mourinho has decided not to risk him. Ashley Young steps in at left-back.
---
Team news!
Watford (4-2-2-2): Foster; Janmaat, Cathcart, Kabasele, Holebas; 
Doucouré, Capoue; Hughes, Pereyra; Deeney, Gray.
Subs: Gomes, Mariappa, Success, Masina, Sema, Chalobah, Femenía.

Manchester United (4-3-3): De Gea; Valencia, Smalling, Lindelöf, Young; Pogba, Fellaini, Matic; Lingard, Lukaku, Sánchez.
Subs: Grant, Bailly, Mata, Martial, Grant, Fred, Darmian, McTominay. 

Referee: Mike Dean!
Updated:
16.09.2018 07:55