GOAL! Manchester City 5-0 Liverpool (Sane 90 +1)
Scrub that! There's time for Sane to pick up possession just to the right of the Liverpool D. He takes a touch and curls one into the top left! A beauty, and this is now officially a rout.
90 min: Everyone would be happy to hear the final whistle now, if the keep-ball going on in the middle of the park is anything to go by. That'll be sounded in two minutes' time.
88 min: De Bruyne, quarterbacking from deep, slides a pass down the inside-left channel for Sane, who crosses low. Aguero slides to meet the ball at the far post, and guides it goalwards, but Mignolet spreads himself to save well.
85 min: Sane comes straight through the back of Moreno. Not sure how he's escaped a booking for that, but it's just a wee chat.
84 min: 4-0's Alex Oxlade-Chamberlain has a run down the left. It doesn't lead to much. Liverpool have had no outlet in this second half. Was it such a good idea to take Mo Salah off?
83 min: Fernandinho curls in a cross from the right. Can tries to trap it with his buttocks, perhaps not the wisest idea. The ball clanks to Aguero, who turns Can on the outside and smacks a shot into the side netting on the right.
81 min: Can is booked for a frustrated slide on Aguero. The resulting free kick comes to nothing.
79 min: More keep ball from City, whose fans are now in Party Mode. Penny for erstwhile Arsenal player Alex Oxlade-Chamberlain's thoughts, now facing two 4-0 defeats in a row with different clubs. If not something even worse.
GOAL! Manchester City 4-0 Liverpool (Sane 77)
This had been coming. Another powerful run by Mendy down the left, and another peach of a cross. He slips it inside to Sane, who fires a first-time effort into the bottom left. Mignolet was beaten at his near post, though in truth he'd have done very well to stop that crisp shot, with Liverpool all over the shop at the back.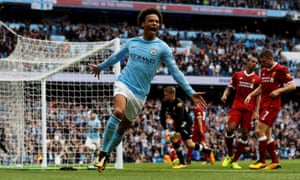 Sane celebrates City's fourth goal Photograph: Lee Smith/Action Images via Reuters
74 min: Mendy is rampant right now. He strides again down the left and Henderson does very well to swivel and hoick his cross away while standing in front of goal. The away fans are making the most noise right now, as supporters so often do when their team are in an awful pickle like this.
72 min: A brilliant reaction save by Mignolet, from his own player! Mendy whips a low cross in from the left. Matip hangs out a leg, and the ball flashes towards the bottom left. Mignolet does very well indeed to keep the effort, such as it is, out with a strong arm.
70 min: Eliaquim Mangala comes on for Nicolas Otamendi.
69 min: Solanke's first contribution is to win the ball in midfield with some determined scrambling. He sets Milner off down the right. Milner is clipped by Danilo, and is happy to sit on the turf awhile, running down the clock. The resulting free kick comes to naught.
68 min: Alexander-Arnold is forced to tap out for a corner under pressure from Mendy, pressing hard down the left. From the set piece, Silva and Sane nearly open Liverpool up with some pretty quick-fire passing down the wing, but the offside flag goes up after a crisp one-two.
67 min: Firmino hasn't stopped chasing, despite the desperate situation Liverpool find themselves in. But his race is run: he's replaced by Dominic Solanke.
65 min: But suddenly City spring into life, Sane turning on the jets out on the left. He pulls back a cross for De Bruyne, who, breaking news, finally does something that isn't superb! He leans back and blooters a shot miles over the bar, with the goal at his mercy.
64 min: City with more of the sterile keep-ball. Liverpool will take this, in the hope of avoiding a cricket-score thrashing. Meanwhile here's Rory Craig again: "After letting myself calm down, and confirming that my unbridled bias towards the Reds got the better of me, that probably was a red card really. But it might not have been. I don't know. Hardly matters, we probably would have still lost."
62 min: City play a bit of keep ball in the middle of the park. Walker threatens to break free down the right but Klavan just about manages to keep him away from the danger zone.
60 min: Liverpool can't get out of their own half. The home crowd are enjoying this.
58 min: James Milner comes on for Georginio Wijnaldum. The City fans give their former player the bird. Always time for a bit of panto in the Premier League.
57 min: The brilliant Gabriel Jesus, who has scored two and had another goal disallowed, won't be getting his hat-trick. He's replaced by Leroy Sane.
56 min: ... some intricate triangulation which releases Mendy into space. He rolls a ball across the six-yard box, with Jesus again hovering. Mignolet smothers. Yes, Liverpool have to watch themselves here.
55 min: This could get embarrassing for Liverpool. David Silva slips a pass down the left for Mendy, who hooks towards the near post, where Jesus lurks. The ball's deflected out for a corner by Klavan. And from the set piece...
GOAL! Manchester City 3-0 Liverpool (Jesus 53)
City have the ball in the net again, and it's another disallowed goal, Aguero clipping a right-wing cross home but from an offside position. No matter! Seconds later, they intercept a Liverpool hoof upfield. Fernandinho slides a pass down the middle, splitting Liverpool's new back three, and Aguero is away! He unselfishly passes to Jesus on his left, and the young man finishes with Mignolet utterly stranded!
50 min: Firmino has a couple of runs at the City back line, clearly not of a mind to let this one go yet. The second earns a corner down the right, from which ...
48 min: All a bit quiet at the Etihad, however, with a general sense that this is pretty much over, unless Otamendi, for example, manages to get himself sent off. Meanwhile in the interests of balance, which everyone loves on the internet, here's Rory Craig: "Yes, Mané's boot is high, but is he not allowed challenge for the ball? Calling the keeper defenceless is a bit of an overstatement I think; his half-hearted challenge for the ball put himself in more danger than if he had dived for it, but that's just from my view of the challenge."
GOAL! Manchester City 2-0 Liverpool (Jesus 45 +6)
No mistake this time! De Bruyne tries a cross from the left, and it drops on the head of Jesus, who plants a fine header past Mignolet! That was another peach of a cross! City are in control now.
45 min +5: Liverpool are desperate to hear the half time whistle. They can't get hold of the ball. "I thought it was harsh at first bust looking at the replay I think Moss has got it spot on," writes Kasete Skeen. "Mane's foot was high, high enough to hit Ederson in the head and the fact they converged so forcefully makes it all the worse." Yes, you might be right. Who'd be a referee?
City goal disallowed!
45 min +3: De Bruyne, deep on the right, curls a glorious ball into the middle. Jesus rises and plants a header past the flapping Mignolet. That was some cross, he couldn't miss! But the flag goes up, correctly, for offside.
45 min +2: Mendy whips a gorgeous cross into the Liverpool box from the right. Aguero, at the far post, seems surprised and can only force a corner. From which...
45 min: Ederson departs, and Claudio Bravo comes on. There will be eight extra minutes added to this half.
43 min: Was Mane unlucky to be sent off? Maybe. Maybe not. Certainly, poor Ederson has come off worst in physical terms, and he'll take no more part in the game. He's being carefully loaded onto a stretcher.
40 min: Ederson is down getting a bit of treatment. To be fair, he did take an awful clatter in the face there. But it looked like an honest coming together in an innocent 50-50. I guess folk will have different opinions on the decision, but on Sky both Gary Neville and Thierry Henry think it's harsh on Mane, regardless of Ederson's injury. On the touchline, Jurgen Klopp is beside himself with anger. Moss comes over to calm Klopp & Klopp down.
RED CARD! Sadio Mane (Liverpool)
37 min: A long hoick down the middle. Mane springs the offside trap and goes after the ball. Ederson comes out of his area. Mane looks to nick the ball past the keeper on the left. His raised leg connects with the keeper, who goes down. It's a free kick, sure. But there's shock in the air as Jon Moss brandishes red. Nobody expected that! That looks a slightly harsh decision, with Mane looking at the ball as the pair collided. Having said that, the keeper did take an unfortunate one in the face.
36 min: City were looking nervous before that opening goal, but now it's Liverpool who appear jittery. Passes aren't sticking any more, and the home side are beginning to win most of the battles in midfield.
34 min: Liverpool have been awfully ponderous in defence. Now it's Klavan's turn to faff around unnecessarily, and he's closed down by Jesus, who races off with the ball. Klavan does pretty well to get back and blocks Jesus's shot from a tight angle. From the resulting corner, the ball drops to Stones, six yards out! He must score, but hits his effort straight at Mignolet, who kicks away well.
33 min: That goal means Aguero has become the top-scoring non-European in Premier League history. How's that for a contrived stat? He's got 124 now, one more than Dwight Yorke.
31 min: A wonderful spin by Mane in the midfield, and he slips a pass down the right for Salah. He's clear. He steps into the box, but telegraphs his intent, opening his body and looking to curl one past Ederson and into the bottom left. The keeper reads it and claims. Salah has been getting in plenty of decent positions, but his final ball has been woeful so far.
GOAL! Manchester City 1-0 Liverpool (Aguero 25)
A poor clearing header from Henderson in the midfield. De Bruyne, in the centre circle, slips a perfectly weighted ball down the middle, releasing Aguero who was just onside. A wonderfully timed run, and he rounds Mignolet on the right and rolls the ball into the empty net. So simple! But that's a very pretty pass and finish.
23 min: Now Mane has a gander down the right. His low fizzer is hacked out by Stones for a corner. From the set piece, Henderson takes a fresh-air screamer from the edge of the box. The home fans enjoyed that. There's a bit of scrappy head tennis, and finally the flag goes up for offside.
22 min: Can and Moreno exchange passes down the left. Can tries to open up City with a scoop over the back line, but Mane hasn't read it and Ederson claims. Then another Liverpool attack, as Salah skins Otamendi down the right and bombs towards the byline. He's got Firmino in the middle, screaming for a tap-in, but decides to flick a shot towards the bottom right, hoping to surprise Ederson at his near post. Nope!
20 min: Alexander-Arnold plays himself into trouble, delaying a simple hoick upfield. He's closed down by De Bruyne, who races off towards the box. Alexander-Arnold yanks him down just outside the box, and he's in the book. The free kick, in a dangerous position, is nothing to write home about.
18 min: Can has a smack from 25 yards, but he was falling backwards at the time, and the pea-roller, aimed for the bottom left, is easily claimed by Ederson.
17 min: The first lull of an open game. Stones, under no pressure whatsover as City stroke it around in midfield, blooters a pass high into the stand out on the left. That wasn't in the brochure.
15 min: Otamendi is off wandering, and Salah is afforded way too much time down the right. Salah cuts inside and shapes to shoot Stones comes across to block brilliantly. The incident gives Liverpoolconfidence. Mane has a wander down the left and nearly works space to shoot. Then Henderson swings a ball in from the right. Firmino meets it at the far post, but can only flick a leg out from a tight angle. Ederson gathers. This surely won't be goalless, but good luck guessing who's going to open the scoring.
13 min: Fernandinho takes up possession 30 yards from goal, and he's got a little time and space. He threads a low shot towards the bottom left. It's going in, but it's not hit with pace, and Mignolet is able to tip the ball around the post. Another corner, another non-event.
12 min: Alexander-Arnold is bollocked by the referee for taking too long over his throw-ins. Rattled, the young full back then concedes a corner from miles out, overcooking a backpass under a little pressure. Fortunately for Liverpool, the City corner comes to nothing.
10 min: After a slow start, City are beginning to impose themselves. Silva and Otamendi combine down the left and nearly release Jesus, but the striker loses control just inside the Liverpool area.
8 min: This is a breezy start all right. Matip is forced into a rushed clearance and concedes a corner down the City right. The corner's hit deep. Aguero shapes to hit a bicycle kick from the edge of the box, but Klavan crowds him out and Liverpool clear their lines.
7 min: Moreno batters the set piece straight into the wall, looking for the bottom right. Alexander-Arnold gets on the rebound and curls deep, but Firmino can't get his head on it at the far post. City break upfield, De Bruyne striding down the inside-right channel with great purpose and fizzing a low shot towards the bottom right. Mignolet smothers.
6 min: Otamendi makes an awful hash of clearing a long Matip ball. His mistake allows Salah to zip off down the right. Salah threatens to break into the box, so Otamendi, only half recovering, checks him cynically. He's booked, and this is a free kick in a dangerous position, just to the right of the City box.
 Otamendi upends Mohamed Salah. Photograph: Stu Forster/Getty Images
Updated at 12.44pm BST
4 min: City have a wander up field for the first time, and Walker is clipped by Mane out on the right wing. A free kick, 35 yards from goal, and a chance for City to load the box. De Bruyne curls the free kick into the mixer. Jesus rises above a static Wijnaldum, who is in Clearing Header (Watford) Mode. The City striker eyebrows an effort wide left; Mignolet was watching it glide harmlessly out of play. But both teams are showing much attacking intent already, pretty much as expected.
2 min: Liverpool are on the front foot early doors. Salah sits on Otamendi's shoulder and nearly bursts down the right. Then Moreno has a crack from distance, and his effort rebounds out for a corner on the left. The set piece, whipped in by Firmino and dipping by the near post, is snaffled by Ederson.
A warm handshake between the two managers ... wide smiles ... a blast of Hey Jude (1968, the year of City's second title) from the speakers ... and we're off! Liverpool get the ball rolling. Wijnaldum tries to find Salah down the right wing and possession is lost. City's turn to get a feel of the ball.
The teams are out! City are in their famous sky blue and white shorts; Liverpool in their equally storied all-red strip. There's a rare old atmosphere at the Etihad; we'll be off in a minute!
These two clubs have had a strange relationship of late. Liverpool have won four of the last five league fixtures, drawing the other one. They've handed out a couple of big skelpings: 3-0 at Anfield in March 2016, 4-1 here at the Etihad in November 2015. But on the flip side, Manchester City bested them in the 2016 League Cup final and the 2013-14 title race. So Liverpool may have the recent bragging rights in terms of cold stats, but it's City who won when it really counted and extended their roll of honour. So does this mean today's result doesn't really matter? No. So does that mean this paragraph was a pointless waste of time? Hm.
Pep Guardiola speaks! "This kind of game, against top players, is why we are in this world. We have gone with two strikers, because we are going to try to score goals. We have options at the back: we can play a back four, or three and one in the middle. It is not easy to stop Liverpool, they are so quick. But it is not only that, they are well organised, and it is Liverpool. But we are going to minimise their strength points, and try to play our game."
While we're waiting to hear from Pep ... here's Barney Ronay, who has high hopes for this match.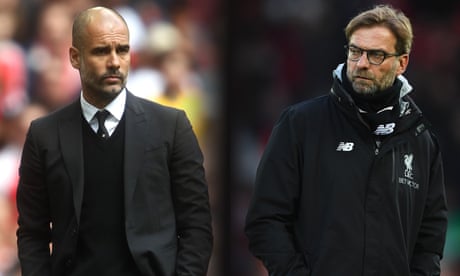 Pep Guardiola v Jürgen Klopp – a showdown to break the season open
Updated:
11.09.2017 10:33