The draw in full:
Barcelona v Roma
Sevilla v Bayern Munich
Juventus v Real Madrid
Liverpool v Manchester City
The team drawn first will host the first leg, which will be played on 3/4 April, with the return the following week.
Liverpool v Manchester City!
Liverpool and Manchester City have never played each other in Uefa competition.
Juventus v Real Madrid
Last year's final will be replayed! Twice! Their head-too-head record is pretty even: 22 goals per team, Juventus have won eight, lost nine and drawn two.
Sevilla v Bayern Munich
Sevilla have never played Bayern Munich in Uefa competition.
It's Barcelona v Roma!
However, The Premier League leaders, Manchester City, have been drawn against Liverpool in the quarter-finals of the Champions League.
City secured their place in the last eight by beating Basel, having won the away leg 4-0, but then lost 2-1 at home in the second leg. Liverpool saw off Porto in the round of 16, which also saw an impressive away performance with a 5-0 victory at the Estadio do Dragao ahead of a routine goalless draw at Anfield.
Anfield will host the first leg of the quarter-final tie, which will be played on April 3 or 4 with the second leg to be held on April 10 or 11.
Elsewhere in Friday's quarter-final draw, holders Real Madrid were handed a tie against Italian giants Juventus, who beat Tottenham in the last round. La Liga leaders Barcelona will play Roma, while the reward for Sevilla's victory over Manchester United was a date against Bayern Munich of Germany.
Just to clarify, it's a bowl, not a hat.
Shevchenko on Ukraine hosting the final. He seems pleased:
It's a big honour for us to host the Champions League final. People in the Ukraine love football and it's a great moment, an important moment also for the young generation, to see the best teams in the world. Thankyou for this chance.
Shevchenko's hot take: "There's a lot of great teams – Barcelona, Real Madrid, Manchester City. It's all the great teams. Juventus. It's a very difficult, very tight competition."
He will be joined for the actual ball-fondling bit by Andriy Shevchenko, this season's Champions League ambassador (because the final will take place in his native Ukraine).
The draw is about to actually happen, and Giorgio Marchetti, Uefa's deputy general secretary, is our drawmaster.
I have literally no idea what's happening here. None.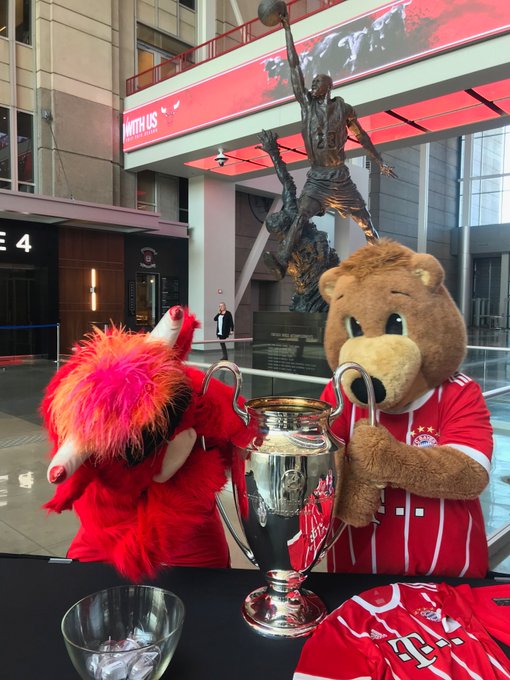 Anticipation builds for the #UCLDraw, but luckily, we've got a friend to help ease our nerves in Chicago. Hey, @bennythebull!
EUROPA LEAGUE DRAW
Arsenal v CSKA Moscow
Atlético Madrid v Sporting
Lazio v Salzburg
Leipzig v Marseille
Lazio v Salzburg
Lazio have lost 100% of both their previous matches against Salzburg.
Atlético Madrid v Sporting
An all-Iberian challenge. They have played twice in Europe before, and drew both times.
Arsenal v CSKA Moscow
Arsenal have avoided Atlético, as they wished. But don't be too happy too soon: their record against CSKA is poor, and amounts to one draw and one defeat.
The Gunners still have a chance of making the Champions League via this competition - but some big names remain in the hat
Arsenal remain in with a shot of continental glory after battling past AC Milan in the Europa League.
That means that they take their place in Friday's quarter-final draw, where they enter as the second favourites for the competition, behind La Liga powerhouses Atletico Madrid.
Diego Simeone's side will be the team that Arsene Wenger will most hope to avoid - but there are a host of other respectable European names in the mix.
RB Leipzig and Lazio are having decent seasons, while Salzburg toppled Borussia Dortmund in the last round.
The Guardian
Updated:
16.03.2018 17:47