Manchester City v Liverpool: Champions League quarter-final second leg – live!
GOAL! MAN CITY 1-2 LIVERPOOL (Firmino, 77; agg 1-5)
It's all over at the Etihad and Liverpool are into the Champions League semi-finals, winning 2-1 on the evening but with an impressive 5-1 win on aggregate.
90: Two minutes of added time.
89: Another change for Liverpool as Salah is replaced by Ings. A few boos and jeers from the home fans as he goes off. 
He gets a big hug from Jurgen Klopp on the sidelines after his equalising goal.
88: Man City are seeing plenty of the ball in the last few minutes, but their attacking prowess from the first half has fizzled out it seems.
Liverpool are looking much more comfortable now, as you would expect. 
Elsewhere in the quarter-finals this evening, Roma are 3-0 ahead against Barcelona, which means it is a 4-4 aggregate score - with Roma currently going through on away goals. 
Head here to follow the action!
85: Free kick to Liverpool as Clyne is judged to have been fouled by Jesus. It's taken long though and little comes from it.
82: Double changes for Liverpool as Klavan and Clyne come on for Firmino and Alexander-Arnold.
81: OFFSIDE! Another offside goal from Man City after they have the ball in the back of the net. 
Jesus slides in Sane down the left of the box, and he in turn flashes the ball across the face of goal for Gundogan who nets, but the offside flag is raised and it won't count.
76: A tough ask for Aguero to score from that angle as another superb De Bruyne pass is flicked into the path of Sane on the left by Wijnaldum. 
He tries to pick out the striker at the back post, but it's too tight for him to nod home.
74: Here comes that change with Gundogan replacing Bernardo Silva. No substitutions for Liverpool yet.
73: Gundogan is being prepared for Man City as they hunt for the five goals they need in the next 17 minutes to make it to the Champions League semi-finals.
70: A very close effort from Laporte as he goes for goal from the top of the area, but a deflection off the head of Lovren sends it just skimming over the crossbar. 
68: There's a bit of a collision between Sane and Oxlade-Chamberlain as they go for a high challenge, with the latter taking a boot to the top of the thigh and the Liverpool midfielder landing awkwardly. 
Sane stays down as the referee stops play, but he is soon back on his feet.
66: A first change of the game and it's for Man City with Aguero coming on for David Silva.
65: A great bit of play from Mane there as he gets away from Sane down the right hand side, before cutting the ball back into the box but it goes past both Salah and Firmino who are too far forward. 
Van Dijk then goes into the book for a challenge on Sterling. The fourth for Liverpool this evening.
64: A corner for Man City, which Sane delivers but it flies way past everyone in the box.
Fernandinho then whips in a better effort from the right flank with the ball still in play, but Karius is there to collect.
Man City look to get a foothold back in this game, but Karius collects the sho
54: Some good defending from Sane as Liverpool attempt to get forward with Alexander-Arnold being slid in down the right of the box, but the German does superbly well to get ahead of his and set Man City on the break.
52: Man City have ridden the early 'wave' from Liverpool, who briefly had their spell of possession, and are back to passing it around nicely.
49: Good collection from Karius as De Bruyne lofts a superb ball into the area, searching for the head of Sane who has made his way into he six yard box, but it just goes past the German and allows the Liverpool goalkeeper to collect.)
48: Liverpool are seeing the early moments of possession, but have done little to worry Man City in terms of attack.
46: Back up and running, with Pep watching on from the stands..
MAN CITY 1-0 LIVERPOOL (agg 1-3)
43: OFFSIDE!! Man City are at it again and they have the ball in the back of the net, but the linesman's flag is raised.
The ball is put into the area by De Bruyne and Karius is off his line to try and punch it away but he doesn't quite get the contact he wants.
The loose ball then lands to Sane in the six yard box, and he scores, but the offside flag is up and it won't count. What a few minutes for Man City.
42: OFF THE CROSSBAR!! What a superb shot from Bernanrdo Silva but it hits the post! 
41: Ederson gets his hands on the ball everyone!! Liverpool come forward again and it's Oxlade-Chamberlain with the shot but the Man City stopper collects easily.
40: A few more signs of life from the Liverpool attack as Salah attempts to cross into the area, but Walker makes a leaping header away.
39: Not a bad shot at all from Bernardo Silva as De Bruyne pings a mind-boggling ball across the box for his team-mate.
Bernardo Silva twists and turns around Robertson before getting his shot away, and it just fizzes past the far post. It was not far away at all.
37: A very inviting cross indeed from David Silva after he is slipped down the left of the box by Fernandinho, but the ball just goes behind Jesus and allows Liverpool to clear. 
Fernandinho latches onto the loose ball and tries his luck, but it whistles past the post.
35: Booking number five, with Firmino the next to see yellow after a tackle on the racing De Bruyne. 
34: A second penalty of the game for Liverpool who have a rare attacking opportunity.
Salah takes, but it is headed away by a Man City defender at the near post.
33: Two penalty shouts from Sterling now, once after a high challenge with Robertson and it's the Liverpool defender involved again as they tussle near the baseline.
Sterling is given a talking to by the referee afterwards as neither were deserving of a spot kick.
31: CHANCES! Another save from Karius as David Silva whips in the ball from the left flank, but the Liverpool goalkeeper leaps to palm it away.
However, the loose ball lands at the feet of Bernardo Silva who has two bites of the cherry to score, but the body of Milner is in his way before the referee blows his whistle for a Liverpool free kick. 
Bernardo Silva is then booked for remonstrating with the referee.
29: Another yellow card out as Alexander-Arnold fouls Sane over on the left hand side.
27: SAVE! Some superb play from De Bruyne there as his cross field pass picks out Bernardo Silva on the right hand side before darting towards the top of the box.
De Bruyne then receives the ball back and tries to sweep home, but it's low down and Karius makes a good save.
25: A great ball into the box from De Bruyne at the top right corner of the box, seeking out Sane at the back post but as he tussles with a Liverpool defender, the linesman has his offside flag correctly raised.
24: Man City are dominating this game at the moment, in terms of attacking play and possession, with Liverpool struggling to string more than a few passes together. 
19 CHANCES! Man City are really pressing for another goal now, and it's Sterling and Jesus who link up again but the latter cannot tap home this time as the ball ricochets off his chest.
Karius is called into action not long after as Sane crosses from the left of the box, aiming for Bernardo Silva, but Karius is there to make a leaping save.
17: De Bruyne takes and pulls it back for Sane at the top of the area with the German going for goal, but it is deflected out for a corner. 
David Silva and De Bruyne link up again for a short corner this time, but the linesman's flag is soon raised for offside.
17 min This could be on, you know. Liverpool look very nervous at the back, and there is a stick/twist indecisiveness about their counter-attacking.
16 min A foul of rare stupidity from Lovren on Sterling gives City a free-kick near the left corner flag. De Bruyne rolls the free-kick to the edge of the area for Sane, whose mishit shot deflects wide off Van Dijk.
14 min Mane, who was sent off here in September, slips over and slides studs-first into Otamendi, who rolls around in pain. Ederson charges from his line and shoves Mane once, twice, maybe the full Lionel Richie. Mane and Ederson are both booked. There was no intent there from Mane, who slipped over just as he was about to challenge Otamendi.
Updated at 8.01pm BST
13 min "Best possible start for Liverpool," says Hubert O'Hearn. "A smack in the face, therefore Attack! Now i feelo confident. Easy win, 4-2 for the match, 7-2 for tyhe tie."
Given the usual cleanliness of your emails, the number of typos suggest a degree of nervousness not entirely consistent with your bullish message...
12 min It's actually been a fairly quiet start, with the obvious exception of the goal.
9 min "Hi Rob, says Peter Oh. "In these times of deep division, it's comforting to know that we can at least agree on one thing. The Zadok the Priest- butchering CL anthem is just abominable. Now, back to the match. I do hope Liverpool can Handel what City throw at them."
8 min De Bruyne coaxes a shot over the bar from 25 yards. Liverpoolhaven't started welol.
7 min "Evening Rob," says Simon McMahon. "Very pleased to hear that Andy 'Robbo' Robertson starts tonight; doesn't seem that long ago he was strutting his stuff at Tannadice, where there also happens to be a big game tonight. In fact the league could be won, not by United but by visitors St. Mirren. United have been in free fall since round about the time Robertson left. Some reflected glory tonight perhaps, as we struggle to hold on to a play-off place."
What would Dundee United know about the latter stages of European competition, eh? European Cup semi-finalists, you'll never sing that.
6 min I think it was a foul by Sterling, but it was a tight call. Either way Van Dijk made a mistake - he stopped playing, appealing for a foul. Play went on and City ripped Liverpool apart in the space Van Dijk would usually have been covering.
5 min "Good evening Rob," says Grant Tennille. "Regarding Jürgen Klopp's exhortation that Liverpool be prepared for a City 'thunderstorm', I'm trying to imagine just what might precipitate an evolution from last week's shower."
4 min I'd like to see that Van Dijk incident again. He fell off the pitch after being challenged by Sterling, which meant he was out of position when Fernandinho ripped that pass through the defence.
Fernandinho sliced the defence open with a long straight pass to Sterling, who got his head up and squared the ball perfectly for Jesus. He finished emphatically beyond Karius. Virgil van Dijk was furious, thinking he'd been fouled by Sterling before the ball went to Fernandinho.
GOAL! Manchester City 1-0 Liverpool (Jesus 2)
What a start! It's a beautiful goal too.
1 min Let's get this bloody party started.
There's a hostile atmosphere at the Etihad - and that's just towards the Champions League anthem, which is lustily booed.
The players are in the tunnel. Business faces are on. My prediction? Manchester City 12-9 Liverpool.
"Pep's XI," says Gary Naylor, "reminds me a bit of this."
The more I think about it, the more I really like his team. It's selfless, brave and most important of all it ensures I won't have to report on a tedious 0-0.
Updated at 7.19pm BST
Jurgen Klopp speaks "Mo is 100 per cent fit and so is Robbo. City's team is a statement – nice and offensive, so this will be exciting. They are going to try everything, and so will we."
Pep explains his team selection "We have to attack. We need to score goals, so we need players with quality, and Fernandinho can play with the central defender. Sergio Aguero is not ready to play 90 minutes."
An email
"Not many (none) midfielders on the bench for Liverpool tonight," says Conor Murray.
They're all suspended/injured aren't they?
Pre-match reading
Jürgen Klopp warns Liverpool to be braced for a City 'thunderstorm'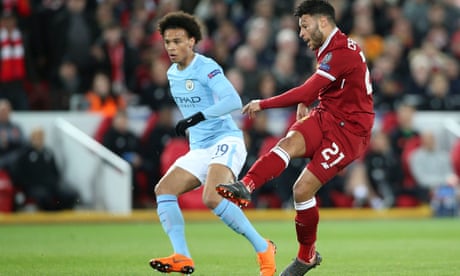 Manchester City have 'wow' factor but they need Houdini-style escape
Team news
Mo Salah and Andy Robertson start for Liverpool. Vincent Kompany has been dropped by Manchester City, who are playing Nicolas Otamendi in a back one. Sergio Aguero is only on the bench, but it's still a seriously attacking line-up. It's a very selfless selection from Guardiola, because if it goes wrong he will receive far more criticism than if he had stuck with the usual 4-3-3.
Manchester City (possible 3-1-3-3) Ederson; Walker, Otamendi, Laporte; Fernandinho; B Silva, De Bruyne, D Silva; Sterling, Jesus, Sane.
Substitutes: Bravo, Kompany, Gundogan, Aguero, Delph, Zinchenko, Foden.
Liverpool (4-3-3) Karius; Alexander-Arnold, Lovren, Van Dijk, Robertson; Oxlade-Chamberlain, Wijnaldum, Milner; Salah, Firmino, Mane.
Substitutes: Mignolet, Clyne, Klavan, Moreno, Ings, Solanke, Woodburn.
Referee Antonio Mateu Lahoz (Spain)
Preamble
For a man who has won the Champions League twice as a coach, Pep Guardiola has a fair bit to prove in the competition. Since leaving Barcelona his teams have generally won the league by 50 points, only to be eliminated – and often stuffed – the moment they meet a decent team in Europe. And Guardiola has been blamed for tinkering too much in most of those defeats.
It was the same again last week, when his collection of central midfielders were ransacked 3-0 at Anfield. It's unlikely that City will turn it round and reach the semi-finals. But it's not impossible: seven of their 16 home results in this season's Premier League would be enough for them to go through or least force extra-time, including that 5-0 win against 10-man Liverpool in September. If the matches between these teams have taught us one thing, it's that none of us have a clue what is going to happen.
Liverpool know a team can come back from 3-0 down in Europe. So does Pep: he was a ball boy when it happened at the Nou Camp 32 years ago. And there's already been one unforeseeable comeback at the Etihad in the last few days.
This is a chance for Pep and City to change the way people write up their Champions League story. If they go through tonight all the disappointments of the last few years will be forgotten, and the past will be nowt but prologue.
Kick off is at 7.45pm. 
The Guardian
Updated:
11.04.2018 06:39