Jared Kushner wanted to use Russian facilities to avoid US interception of discussions with Moscow, the Washington Post and New York Times said.
Mr Kushener, a senior White House aide, has not commented.
He is said to be under scrutiny by the FBI as part of its inquiry into Russian interference favouring Mr Trump's win.
Reports in the US say investigators believe he has relevant information, but he is not necessarily suspected of a crime.
The most recent reports - which cited US officials as sources - said Mr Kushner had spoken with Moscow's Ambassador to the US, Sergei Kisylak, about setting up a backchannel using Russian diplomatic facilities in America.
This could be used to discuss Syria and other policy issues.
According to both reports, Mr Trump's first national security adviser Michael Flynn was present at the meeting, held at Trump Tower in New York in December.
The New York Times said the line was never established.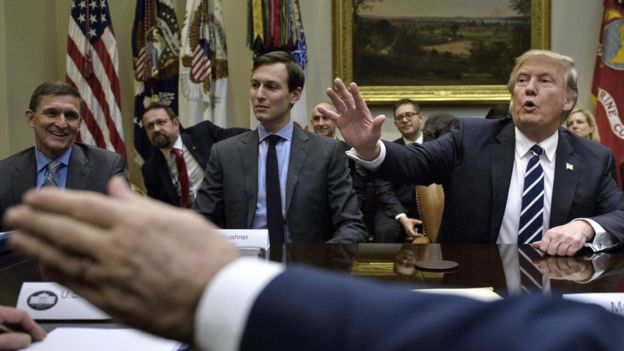 Mr Kushner, along with General Michael Flynn, left, has found his name linked to the Russian investigation
The Washington Post had already reported FBI investigators were focusing on meetings Mr Kushner held last year with Mr Kislyak, as well as a banker from Moscow, Sergei Gorkov.
Gen Flynn was forced to resign in February after it emerged that he had misled other administration officials about the extent of his contacts with Mr Kislyak.
US intelligence agencies believe Moscow tried to tip November's presidential election in favour of Republican Mr Trump, who went on to beat Democratic rival Hillary Clinton.
But President Trump has described the Russia investigations as "the single greatest witch hunt of a politician in American history".
Mr Kushner's lawyer has previously said his client would co-operate with any inquiry.
BBC